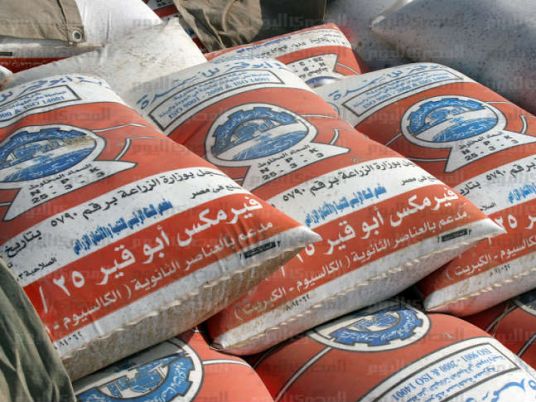 The ministries of Industry and Trade, Investment, oil and agriculture decided to raise the prices of subsidized fertilizers by 33 percent. The price per ton for the urea fertilizer will be LE2,000 instead of LE1,500.
A ton of nitrates, according to the new prices, will be LE1,900 instead of LE1,400.
Official sources confirmed the Ministry of Agriculture said the pressure exerted by companies that produce fertilizers and the Ministry of Industry was behind prices hikes to ensure the regularity of the gas pump to state-owned factories such as factories of Abu Qir Delta and Helwan.
Mohamed Al-Kheshen, president of the Fertilizers Distributors Association, said the government's decision solves the problem of shortage of fertilizers and would push farmers to purchase fertilizers from the private sector, pointing out that the decision would also save large quantities of fertilizers and save the money that goes for subsidized fertilizers.
Kheshen added to Al-Masry Al-Youm that the decision reduces bottlenecks on the fertilizer markets, achieves the so-called 'system of abundance' in strategic goods and reduces selling subsidized fertilizers on the black market.
Magdy Sharaky, president of the General Assembly for Agrarian Reform, said the decision was taken at a meeting for ministers concerned with the industry and trading of fertilizers, on Sunday evening. He pointed out that the farmers' first priority is the availability of fertilizers at affordable prices away from the bureaucracy and red tape.
Sharaky added to Al-Masry Al-Youm that the new decision would be applied Tuesday in various cooperative societies in governorates, stressing the need that inspectors make sure fertilizers reach cooperative societies, especially during the summer planting season.
Edited translation from Al-Masry Al-Youm