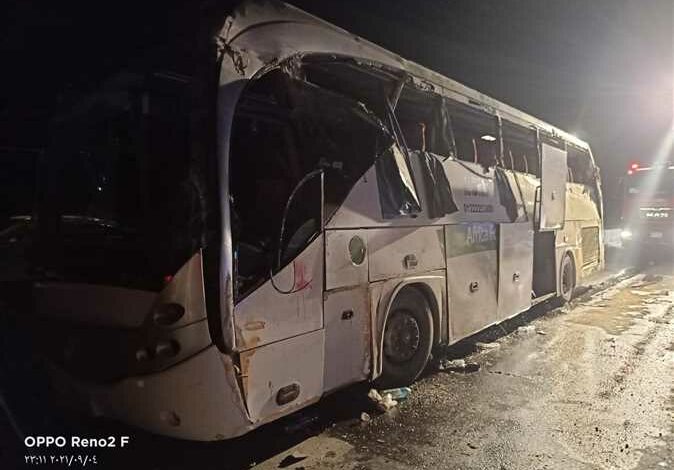 Twelve people were killed and 34 others injured in a bus crash last night at on the Suez – Cairo Road when a tourist bus overturned and collided against a concrete barrier.
A security source said that the bus was carrying about 60 people, all of them families and relatives, who were returning from Sharm el-Sheikh from Cairo.
The bus was coming from Sharm el-Sheikh and heading to Cairo when the accident occurred at the Suez-Cairo road.
The Suez Ambulance Authority announced that 30 ambulances had been sent to transfer the injured from the scene of the accident to Suez General Hospital and nearby hospitals.
The Suez Health Directorate declared a state of emergency in the general hospital to treat the injured, and operations rooms were opened for cases that needed surgical intervention.
Medical sources said that so far 34 injured have been reported.
The dead and wounded include children, it added, and the injuries included concussions, bleeding, fractures, bruises and abrasions.
The sources indicated some of the injured are in critical condition.
Suez Governorate officials moved to the Suez General Hospital to follow up on the injured and providing them with medical care. Meanwhile, security leaders in Suez moved to the scene of the accident to find out the causes of the incident and remove its debris from the road.
The annual report of the Central Agency for Public Mobilization and Statistics (CAPMAS) released in 2020 said that traffic accidents in Egypt rose by 17.8 percent in 2019, with 9,992 car accidents compared to 8,480 in 2018.
The agency added that the number of car accident deaths rose to 3,484 in 2019 – an increase of 12.9 percent. The rate of car accidents increased to 27.4 accidents per day in 2019, it said.
CAPMAS attributed the main cause of car accidents to human error at 79.7 percent of the total road accident causes in 2019, followed by technical vehicle defects at 13.5 percent.