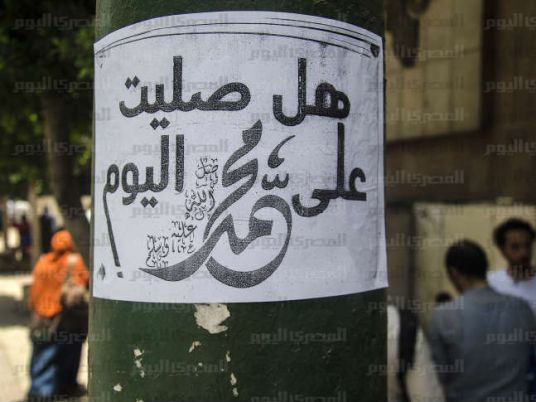 Muslim Brotherhood youths and members of the National Alliance to Support Legitimacy launched a campaign on social networking sites on Monday titled "Did You Send Peace and Blessing on Prophet Mohamed Today?"
The move comes in response to the Interior Ministry's decision to remove stickers bearing the same slogan from cars and streets.
Activists said Friday's weekly demonstrations will be held under the same slogan.
"We will write the slogan, like it or not," said Brotherhood lawyer Montasser al-Zayat on Facebook. "The Interior Ministry's decision will cause anger and discord in the street."
Sources within the Muslim Brotherhood said the group's youths are talking to the Salafis to join the demonstrations.
"This is a war on Islam," said Ahmed Abdel Rahman from the Brotherhood youths.
Assistant Interior Minister for Media Affairs Abdel Fattah Othman said the stickers would be removed soon.
Supporters of the Interior Ministry's decision say religious slogans on cars and in public places can lead to sectarian strife.
Critics say that the government's fears are a lame excuse, in a country with a vast majority Muslim population.
Edited translation from Al-Masry Al-Youm