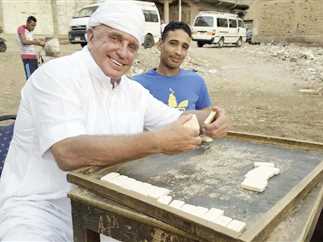 A British tourist found almost dead by Hurghada city residents has recovered, after being admitted into the intensive care unit of a private hospital and undergoing two surgeries.
Paul Berridge, 62, was found collapsed in a street at the al-Kawthar area in Hurghada near death, with his heart having stopped.
He was quickly transferred to the hospital where his heart was revitalized. Tayseer al-Araby, the owner of the hospital, said that Berridge's heart and respiratory system would repeatedly fail hours after being admitted, and so he was kept on the ventilator for five days.
A heart surgery was conducted under the supervision of Dr. Ahmed Abdel Aziz, Professor of Cardiology at Cairo University, to regulate and synthesize his pulses because the electricity of his heart was severely imbalanced, Araby added.
Araby said that that after a few days Berridge woke up and was identified. After his recovery, he told doctors that since 11 people from his family had sudden deaths he expected the same would happen to him.
Berridge said that he visited Hurghada 11 years ago and bought a chalet inside a tourist resort in Sahl Hasheesh.
He added that he loves Hurghada so much that he left his business in a number of countries such as Cyprus, the UAE and Thailand to settle there, and thanked hospital administration for the treatment.
He explained that during his stay in Hurghada, he visited a number of villages in Abu Tesht, Qena, to help the poorer families and orphans to such an extent that residents called him the "Mayor of Abu Tesht". Berridge expressed his happiness with the title, saying he even puts on the traditional "Seidy galabeya" when visiting those villages.
Berridge also said he helped a number of young people in these villages financially to get married.
After receiving money for his treatment from his insurance company, Berridge donated it to the Magdy Yacoub heart hospital in Aswan.
Edited translation from Al-Masry Al-Youm