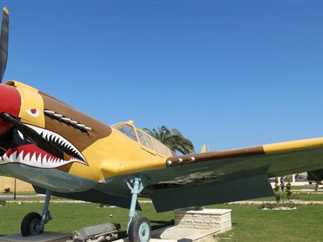 British historians expressed outrage at modifications carried out on a British warplane that fell in the Western Desert during the World War II, and was discovered in 2012, nearly 70 years after its disappearance.
British newspaper, The Telegraph, quoted the family of the warplane's missing pilot, Flight Sergeant Dennis Copping, as accusing Egyptian authorities of deliberately not mentioned Copping at the Alamein Military Museum, where the archaeological plane is currently displayed.
Copping was one of the 260-member British Air Force squadron during the North Africa campaign in World War II in 1942.
"On June 28, 1942 he was on a routine flight to take his damaged Kittyhawk plane from one airbase to another for repair when he lost his bearings and came down in the middle of the Western desert," The Telegraph reported.
Another British newspaper, The Times, described in a report the modifications added to the P-40 Kittyhawk plane by Egypt as "hideous restoration" that turned the plane into a "badly made Airfix model," by adding a shark-teeth like colored painting on the plane.
The plane is currently painted in yellow and red, with shark teeth drawn at the front.
The Telegraph said the plane has undergone a "truly awful and unsympathetic" restoration.
Amid criticism of the plane's new, critics and Copping family urged the Egyptian authorities to honor Dennis's courage at least.
Retired Flight Lieutenant Adrian John Nichol who took part in the first Gulf War urged recognizing Dennis's sacrifices at Alamein Military Museum.
"It would have been fantastic if the plane could have been returned to the RAF Museum and displayed as a permanent memorial to Dennis," he told The Sun newspaper.
"It appears that will never happen now but I hope the Alamein museum could include details of his story so others can understand the sacrifice made by our World War II veterans," he added.
"We can't let Dennis Copping become a forgotten man," the Sun quoted Dennis's nephew and next of kin, John Pryor-Bennett as saying.
"The plane and my uncle will be forever linked," he added.
"The plane is a memorial to him and the only one there is so they really should put up a plaque giving details of his story and the ultimate sacrifice he made," he mentioned.
"It remains a great shame to our family that Dennis's remains have never been found," Dennis's great nephew Mark Copping told the Sun.
"The way [the plane] has now re-appeared is a great disappointment all round. I am not surprised the experts are unhappy with the restoration and for there to be no mention at all of Dennis is unforgivable," he added.
The Royal Air Force Museum in London has failed to recover the plane since its discovery in 2012.
The museum spokesman said in an earlier statement that the Royal Air Force Museum preferred to return the plane, which legally though belongs to the Egyptian government.
Edited translation from Al-Masry Al-Youm