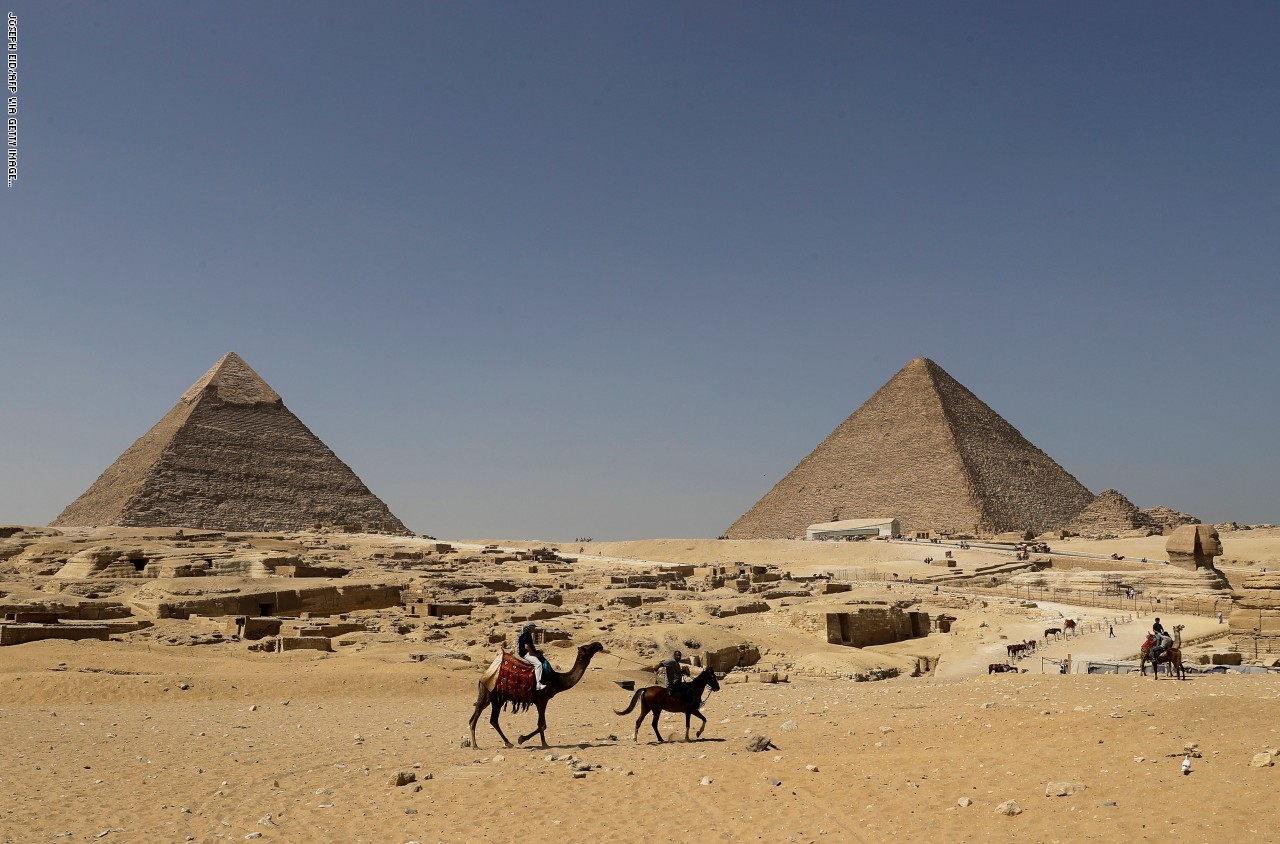 British anti-racism protestors called for the destruction of Egypt's Giza Pyramids on Sunday, after tearing down a statue of a slave trader in the city of Bristol and throwing it in the Avon river, CNN reported Monday.
The pyramids have been among the most frequently discussed topics in the UK over the past several hours, inspired by controversy over who built them.
Protesters tore down the statue of British slave trader Edward Colston on the second day of protests condemning racism in the UK, part of a response to the killing of George Floyd, an African American man, by a white policeman in the city of Minneapolis, USA.

Colston was responsible for the enslavement and transfer of more than 80,000 people from Africa to the New World in the 17th Century, while working with the Royal African Company, according to CNN.
Some then called for the destruction of the Egyptian pyramids in Giza, claiming that they were also built by slaves.
The controversy surrounding the pyramids prompted Twitter users to begin sharing a news article published in the UK media 10 years ago.
The article features an announcement by the Egyptian government, on January 11, 2010, of the discovery of the tombs of laborers who constructed the pyramids more than 4,000 years ago.
At the time of the announcement, archaeologists said that the discovery supported evidence that the people who built the pyramids were not slaves, but rather were paid laborers.
The laborers' tombs, which were built of mud during the Fourth Pharaonic Dynasty, contained jars of beer and bread for the next life.
At the time, head of the excavating team Zahi Hawass said the discovery showed that the pyramid builders were paid workers, not slaves.
Hawass added that, "These tombs were built next to the pyramid of the king, which indicates that these people were not slaves in any way."
As the debate in Britain over the demolition of the pyramids raged, foreign archaeologists published a slide depicting records written by the pyramids' builders, which confirmed that the pyramids were not built by slaves.
UK Home Secretary Priti Patel told SkyNews that toppling the statue of Colston in Bristol was "utterly disgraceful" and "a distraction from the cause in which people are protesting about."

Meanwhile, earlier on Sunday, British Prime Minister Boris Johnson said that anti-racism protests in his country were "subverted by thuggery."
___
Image: (Joseph Eid/AFP)