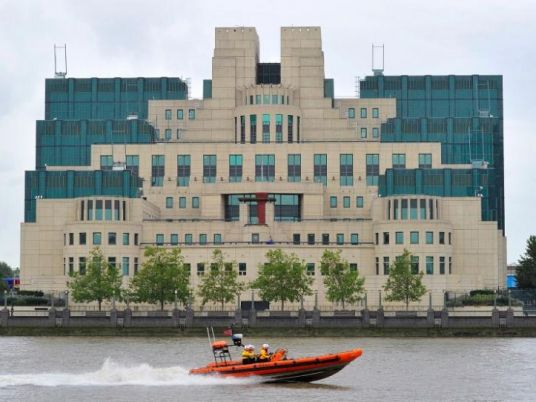 Britain's foreign intelligence service is to get 40 percent more spies in one of the biggest expansions since the Cold War as MI6 seeks to harness new technology, the BBC said.
The Secret Intelligence Service, or MI6, will see its numbers increase to a little under 3,500 by 2020 from around 2,500, the BBC said, citing unidentified sources. MI6 does not disclose its staff numbers.
MI6 chief Alex Younger said this week that the Islamist terrorist threat to the West would endure for years to come because simply taking back territory from Islamic State will not solve the deeper global fractures which have fostered militants.
MI6 operates overseas and is tasked with defending Britain and its interests, working under the official direction of the British Foreign and Commonwealth Office, which is currently headed by Foreign Secretary Boris Johnson.
Support for regional wars
British intelligence operatives have been active in supporting various rebel and Islamist groups in the Middle East and North Africa since the Arab Spring of 2011. The tradition goes back to British military intelligence support for Saudi rebels fighting the Ottoman Empire during the First World War, an operation led by T.E. Lawrence, otherwise known as Lawrence of Arabia.
The British spy agency also provided support, intelligence and training to Islamist groups fighting Soviet forces in Afghanistan in the 1980s, leading to the rise of Osama bin Laden and the al-Qaeda network.
In 2012, the Sunday Times newspaper revealed that British intelligence was providing support to Syrian rebels fighting President Bashar al-Assad in Syria. According to a source from within British intelligence at the time, Syrian insurgents were receiveing intelligence on troop movements from British intelligence units based in Cyprus.
Since then, numerous claims have been made of British intelligence and special force operatives providing logistical, intelligence and battlefield support to rebels in the region, including in Syria, Yemen and Libya.
In April, The Guardian newspaper revealed that MI6 was operating in Yemen, assisting the United States in identifying targets for drone strikes while deploying British special forces operatives in support for the Saudi-led operations there.
MI6 has been identified as providing similar support to rebel groups that overthrew Libyan President Muammar Gaddafi in 2011. The nation is currently divided and fighting an insurgency with various Islaimst groups, chief among them the Islamist State group.
Torture abroad
MI6 has also come in for criticism regarding its practice of rendition of alleged terror suspects, often handing them over for torture by foreign nations. MI6 has often been accused of working closely with the US Central Intelligence Agency to kidnap suspects for such purposes as part of an "extraordinary rendition" program.
In 2012, two Libyans announced that they would sue the former counter-terrorism director of MI6, claiming he played a key role in their rendition to Muammar Qadhafi's Libya.
Abdelhakim Belhaj, who became Tripoli's military commander after the Libyan leader was ousted in the 2011 revolution, and fellow Qadhafi opponent Sami al-Saadi claim British complicity in their capture and subsequent torture.
They announced they would action against Mark Allen, MI6's counter-terrorism chief at the time, after documents emerged suggesting his direct involvement.
"We are taking this unusual step of preparing a legal action against an individual as the documents we have in our possession suggest Sir Mark was directly involved in the unlawful rendition of our clients and their families," said Sapna Malik, a lawyer at Leigh Day and Company.
"The documents which have so far come to light raise serious questions to answer, particularly in light of the horrendous treatment to which our clients were subjected. There must be full accountability for this dark episode."
British police announced in 2012 at they would investigate the Libyans' claims, and MI6 director Mark Sawers said the agency would fully cooperate.
Files unearthed from Qadhafi's archives last year said Belhaj was captured by the CIA in Bangkok in 2004 and with British help was forcibly returned to Libya, where he was jailed in the notorious Abu Salim prison, where they were tortured.
However, in June this year, Britain's Crown Prosecution Service announced that Allen would not be put on trial due to a "lack of evidence".
While British law prevents detainees from being tortured, MI6 and it's domestic counterpart MI5 have been accused of sending suspects abroad for torture and working with foreign officials to obtain information from such interrogations.
Flawed intelligence
MI6 has also been implicated in deliberately providing flase intelligence that led to British involvement in the invasion of Iraq in 2003.
The Chilcot Inquiry into the reasons for Britain's part in the war concluded in July that Prime Minister Tony Blair had made the decision to go to war based on false evidence provided by British and US intelligence agencies, including MI6.
"It is now clear that policy on Iraq was made on the basis of flawed intelligence and assessments. They were not challenged and they should have been," Chilcot said.
He also said that Blair's government's judgments about the threat posed by Iraq's weapons of mass destruction were "presented with unjustified certainty".
No such weapons were discovered after the war.
Chilcot said Blair changed his case for war from focusing on Iraq's alleged "vast stocks" of illegal weapons to Saddam having the intent to obtain such weapons and being in breach of U.N. resolutions.
"That was not, however, the explanation for military action he had given before the conflict," said Sir John Chilcot, who led the inquiry.
Iraq remains in chaos to this day. Islamic State controls large areas of the country and 250 people died on Saturday in Baghdad's worst car bombing since the U.S.-led coalition toppled Saddam.
The inquiry's purpose was for the British government to learn lessons from the invasion and occupation that followed.