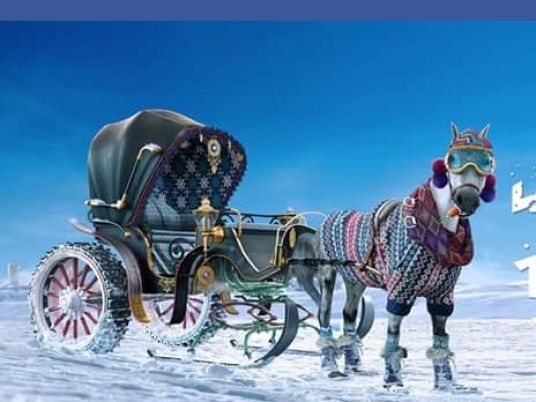 Last Sunday, Ski-Egypt opened its door to visitors for an unprecedented snow experience in the country.
Ski-Egypt is Africa's first indoor ski slope and snow park destination which gives Egyptians–who have never been through a snow experience–the opportunity to enjoy a pure winter with fun-filled activities.
From skiing and sliding down the slopes through snow tubing, to racing on
snowmobiles with your friends, the exhilaration is indescribable.
The entertainment hub met with a great deal of enthusiasm since opening
its doors to clients at Mall of Egypt in 6th of October City.
Ski-Egypt is built on an area of over 13,200 square meters, with the capacity
to accommodate 1,200 visitors. The amount of snow in the center amounts to over 7,000
tons, featuring a variety of ice games such as Snow Park, Snow Play, Rapid Train, Giant Snowballs, among others.
If you want to enjoy your skiing experience to the fullest, Ski-Egypt offers specialized classes by professional trainers for beginners and amateurs.
For those who prefer a laid-back day, there are several coffee shops
such as Avalanche, Snow Flake, and Ice Cave to enjoy a snow-filled
environment with your family or catch your breath after playing around.
Ski-Egypt director Omar al-Banna said in a press statement that the high
turnout of visitors demonstrated the success of the project. It follows in
the footsteps of Ski Dubai in Mall of the Emirates, the first-ever indoor ski resort
in the Middle East.
The project was established at an investment of around LE1.2 billion and
aims to promote tourism and provide new job opportunities. The success of
Ski-Egypt is a reassuring message to foreign investors, Banna concluded.
Getting excited already! Expect an adrenaline rush as penguins are planned
to join the thrill very soon!
Check Ski-Egypt's activities with price list below and for more
information, visit their official Facebook page.
Ski-Egypt Price List
Game

Activities

Adult Price

Child Price

1.Snow Go

Entry to Snow Park

LE300

LE300

2.Polar Express

Entry to Snow Park (Includes gloves).

LE330

LE330

3.North Pole Experience

Entry to Snow Park (Includes a discovery lesson, gloves and a locker).

LE480

LE480

4.Snow View

Entry to Snowflake Cafe (Only includes a cup of hot chocolate. This pass is only available to guardians of children participating in Ski School lessons).

LE120

LE120

5.Ski-Pass (Experienced skiers only)

Ski Pass – 2 hours

LE200

LE150

Ski Pass – Full Day

LE400

LE300

6.Discovery Lesson

A one and a half hour lesson, including briefing and gloves.

LE200

LE200

7.Private Lessons

Discovery Private Lessons

LE955

Not available

Discovery Private Lessons – Additional Guest

LE300

Not available

Private Lessons

LE925

Not available

Private Lessons -Additional Guest

LE270

Not available