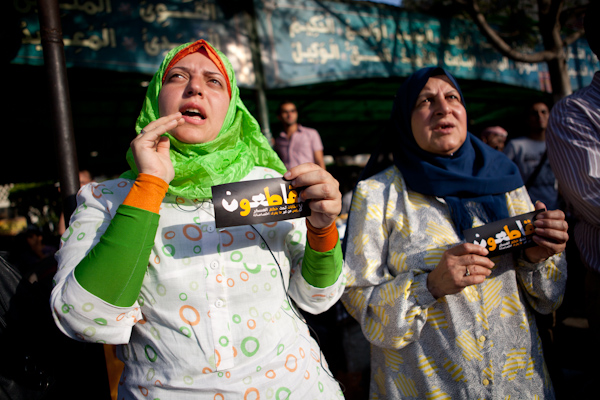 After the two most polarizing candidates won the first round of presidential elections, a growing number of disillusioned and frustrated voters are opting to boycott the second round, scheduled to take place on 16 and 17 June.
While there were calls to boycott the first vote on 23 and 24 May, a movement that calls itself the "Boycotters Campaign," is now making a larger, more organized effort both online and in the streets.
Turnout for the first round was around 45 percent nationwide, and could be even lower for the runoff if the group is successful.
The campaign is attracting voters who have expressed discontent with the earlier voting, especially in light of allegations of vote-rigging, ballot-buying, and irregularities. Many of these voters moved into the boycott camp after the election results were announced, leaving Muslim Brotherhood candidate Mohamed Morsy and former government official Ahmed Shafiq to contest the post.
On 28 May, the Presidential Elections Commission also rejected appeals of the results that cited electoral violations, closing the door to legal challenges.
Disappointed with the results and the process, revolutionary youth are calling for a boycott against both candidates.
During the boycott movement's first conference in Cairo on 30 May, many of the 200 participants expressed their determination not to vote for remnants of the Mubarak regime or what many see as the power-hungry Muslim Brotherhood. Others raised the arguments heard during parliamentary elections late last year that a legitimate election cannot be held under military rule.
What the boycott entails beyond not casting a ballot is in question.
Reem Saad, along with a host of others, has argued for an "active boycott."
"We should collectively invalidate our ballots. We should agree upon a unified slogan to write on our ballots, with which to express our dissent," Saad suggested at the conference.
Rasha Azzab, however, said that "invalidating ballots still counts as participation in the elections, not as boycotting." Azzab indicated that "at the hands of polling officials, an empty or invalidated ballot could be turned into a vote for one candidate or another. Anything could happen to our ballots once we've cast them at the polling booths."
Some participants want the campaign to organize protests outside, or near, polling stations to make its position clear, while others said that would be considered illegal, and recommended protesting in Tahrir Square and other public places instead.
At the end of the conference, these questions were put to a vote and a small majority supported abstaining from marking ballots. The vast majority of participants called for boycott-awareness campaigns to be held near polling stations on election mornings, followed by street protests in the afternoon.
Although these decisions are meant to be binding on all participants, following the vote, a number of attendees could be heard saying they would still invalidate ballots.
The boycott campaign has divided itself into three working groups: popular outreach, media and graffiti.
Those responsible for outreach are planning documentary screenings to raise awareness about the boycott in different areas across Egypt. They have also agreed to organize one-hour campaigns to hand out leaflets in different governorates, cities, and neighborhoods. They began their work on 31 May, when small groups distributed hundreds of leaflets and stickers around Cairo and in the Nile Delta city of Mahalla.
Around a dozen activists began their awareness campaign at Om Kalthoum Square in Zamalek. Participants plastered the base of Om Kalthoum's statue with stickers reading "Boycott the Elections." Well over 100 flyers were distributed to passersby, including pedestrians and drivers. The literature mentioned that around 46 percent of eligible voters participated in the first round of elections, and called for a larger boycott in the second round to take legitimacy away from both Shafiq and Morsy.
Some of the passersby held up their thumbs in approval, another held up his middle finger. Some honked their car horns in support, but others yelled obscenities.
For some voters frustrated with their options, casting a ballot is still important.
Sally, who was passing by Om Kalthoum Square, expressed her disapproval of the boycott campaign.
"Both Shafiq and Morsy are bad options for president. Yet Shafiq is the lesser of the two evils," she said. "Even if we don't vote, we know that Morsy's supporters will still show up and vote. Therefore boycotting would give Morsy the upper hand in these elections."
Another passerby, Mohamed Samir, also plans to choose the lesser of two evils when voting day comes.
"We can choose the better of the two candidates through a process of elimination," said Samir, who campaigned for liberal Islamist presidential candidate Abdel Moneim Abouel Fotouh. "I'm against the Brotherhood, but I'd die to keep Mubarak's National Democratic Party from coming back into power.
"It's a difficult and bitter decision, yet I will vote for Morsy as a vote against Shafiq," he said.
As the boycott advocates wrapped up their activities, Motaz Sharaf el-Din, who had been handing out flyers, said he thought the first day of campaigning had been a success.
"Many people approached us out of curiosity, while many other undecided voters were quickly convinced when we spoke with them," he said.
"In the first round of elections we had less than 46 percent participation. In the second round we hope that 25 percent or less will show up — especially because of the poor options of remaining presidential candidates, the numerous electoral violations, and the fact that the Presidential Elections Commission has rejected the appeals filed against these violations."