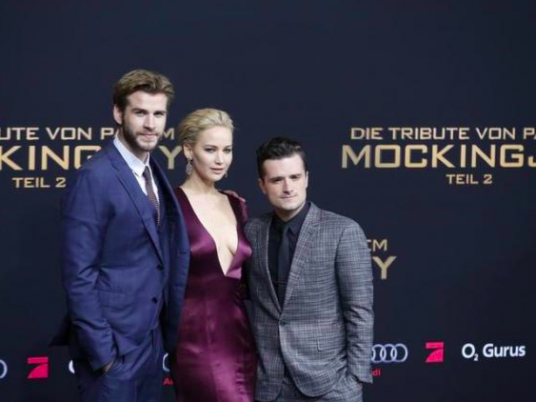 Moviegoers said goodbye to Katniss Everdeen and welcomed back Rocky Balboa, a series of farewells and reunions that powered Thanksgiving box office receipts above last year's holiday.
"The Hunger Games: Mockingjay – Part 2" led a crowded field of contenders, topping charts with $75.8 million and bringing its domestic total to $198.3 million. It marks the final film in the hugely popular series, although Lionsgate, the studio behind the franchise, has hinted it wants to figure out ways to create future spin-offs.
The previous two "Hunger Games" films have both debuted the week before Thanksgiving and gone on to rule multiplexes over the holiday. Its dominance is practically a holiday tradition.
If "Mockingjay – Part 2's" strong returns was a familiar Thanksgiving sight, the big surprise was how well "Creed" performed. The film successfully brought back Sylvester Stallone's iconic Rocky character and revived a boxing franchise that seemed like a Reagan-era relic after racking up $42.6 million over the five-day holiday period.
Metro-Goldwyn-Mayer and New Line co-produced and co-financed the film, which centers on Rocky rival Apollo Creed's illegitimate son (Michael B. Jordan) and his efforts to continue his father's boxing legacy. Stallone plays his coach and confidant. It should have no trouble making back the $37 million that the studios spent putting the "Italian Stallion" back in the ring.
Pixar's "The Good Dinosaur" capitalized on school holidays, becoming the de facto choice for families. The animated film earned $56 million over the five-day holiday. That's a solid result and the fourth highest five-day Thanksgiving opening, but it is somewhat disappointing given Pixar's track record as the most successful provider of all-ages entertainment. It ranks as the third lowest debut in company history. Pixar didn't provide a budget number, but judging from the cost of its previous films, this one likely carries a $200 million price tag.
"The Good Dinosaur" had a troubled production history. The film's debut was pushed back by two years and its original director Bob Peterson was pulled from the project over creative disagreements. He was replaced by Peter Sohn and the film underwent a massive overhaul.
The holiday period had some casualties. Fox's "Victor Frankenstein" was dead on the slab after earning a torpid $3.4 million from 2,797 theaters over its first five days. The attempt to revive Mary Shelley's monster story cost $40 million to produce and starred James McAvoy and Daniel Radcliffe. It stands as one of the year's biggest flops.
In the holdover realm, "Spectre" took in $18.2 million, driving its domestic earnings to $176.1 million. The film has now grossed more than two of Daniel Craig's previous James Bond outings "Casino Royale" ($167.4 million) and "Quantum of Solace" ($168.4 million), but seems unlikely to match the high-water mark set by "Skyfall" ($304.4 million).
"The Peanuts Movie" wasn't completely overshadowed by "The Good Dinosaur." The adaptation of the Charles Schulz comic strip picked up $13.6 million, pushing its total to $116.6 million.
Among art house releases, Focus Features premiered "The Danish Girl," a drama about a transgender artist who undergoes one of the first sex change operations, in four theaters in New York and Los Angeles. It grossed an estimated $185,000, for a solid per-theater average of $46,250.
The Weinstein Company appears to be scoring with "Carol." The romance about two lesbians pushing against conformity in the 1950s made $203,000 from four theaters over five days. After two weeks, the film has generated $588,000.
Open Road's "Spotlight," the widely acclaimed drama about the Boston Globe's investigation of pedophile priests, continued to perform well in its expansion. The Oscar contender added $5.7 million to its $12 million haul after moving from 600 to 897 locations.
Fox Searchlight's "Brooklyn" also used the holiday period to broaden its footprint. The story of an Irish immigrant making her way in 1950s New York took in $4.8 million after increasing from 598 to 897 locations. It has made $7.3 million in its first three weeks.
Final results are still trickling in, but it appears that the holiday will outpace last year's ticket sales by more than 10%. The uptick follows several weekends of disappointing returns as flops like "The Last Witch Hunter," "The 33" and "Steve Jobs" pulled down box office results. Most analysts expect that despite the fall lassitude, the domestic box office will cross $11 billion for the first time in history.