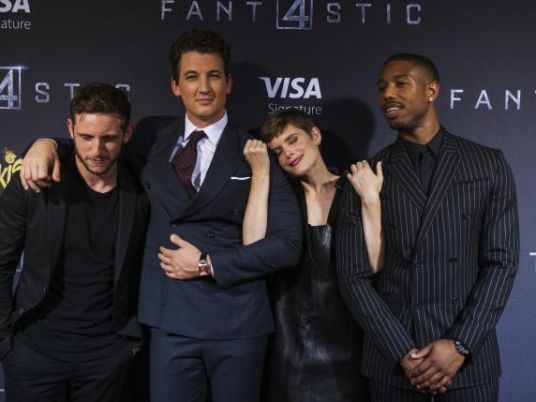 Scathing reviews and an indiscreet tweet left "Fantastic Four" on the slab after the franchise reboot flopped at the weekend box office.
Fox's hopes of rejuvenating the comicbook characters and turning the super-team into a cinematic juggernaut to rival "X-Men" have flamed out given that the film debuted to a dreadful $26.2 million across 3,995 theaters. With a production budget of $120 million, plus millions more in marketing costs, the film will need to get a boost from foreign crowds if it wants to avoid being a write-off.
The studio was banking on a cast of up-and-coming actors like Michael B. Jordan and Miles Teller and a wunderkind director in the form of "Chronicle's" Josh Trank to push the Human Torch, the Thing, Invisible Woman and Mr. Fantastic into the modern era, but production difficulties may have doomed the project. Trank reportedly exhibited bizarre behavior on set that was so extreme it cost him his gig directing a "Star Wars" spinoff. He seemed to acknowledge those tensions, blaming studio-mandated reshoots for the poor critical notices in a tweet Thursday that he subsequently deleted.
"This turned into a nightmare for Fox," said Jeff Bock, an analyst with Exhibitor Relations. "Everything that could go wrong went wrong and the whole thing fell apart."
"Fantastic Four's" opening is well below the $40 million-plus debut that most analysts had projected and trails the $56 million launch of 2005's "Fantastic Four" and the $58 million bow of 2007's "Fantastic Four: Rise of the Silver Surfer." It's the worst opening for a movie featuring Marvel Comics' characters since "Ghost Rider: The Spirit of Vengeance" debuted to $22.1 million in 2012. A C- CinemaScore means that word-of-mouth is going to be toxic.
"The confluence of clearly the decidedly negative reviews with the combination of social media did not help the cause," said Fox distribution chief Chris Aronson.
He was not willing to write off the "Fantastic Four" series yet, but stressed that the studio would be engaged in a rigorous postmortem about the film's failure. The foursome's future might be as supporting players in other comicbook characters' movies.
"We have a lot to look forward to in our comicbook character universe," said Aronson. "We may find different ways to feature these characters in the future, but it's early and we'll have to see what form that takes."
The film's opening weekend crowd was 60% male and 51% under the age of 25.
"Fantastic Four's" anemic opening was good news for "Mission: Impossible – Rogue Nation," which edged out the comicbook movie to capture first place on the box office charts. The Paramount sequel earned a strong $29.4 million in its second week in theaters, pushing its domestic total to $108.7 million.
It was a crowded weekend at the multiplexes with four new wide releases piling into theaters. Among the new entrants, STX Entertainment's "The Gift" fared best, with the thriller picking up $12 million across 2,503 theaters and nabbing a third place finish. That's a solid debut considering the film, which Blumhouse Productions co-financed and co-produced, cost a mere $5 million to make. It marks STX's first theatrical release — the studio was launched in 2014 by producer Robert Simonds with the goal of making the kind of mid-budget films that studios have largely abandoned in favor of superhero adventures.
"This is an exceptional start for our company," said Kevin Grayson, STX's domestic distribution group president. "We got to battle test our marketing and distribution groups."
Grayson said the film has been playing more like a psychological thriller than a horror movie, so he believes it should hold up well in coming weeks instead of fading quickly. The audience skewed older and female, with women making up 53% of the opening crowd and 73% of ticket buyers clocking in at over 25 years old.
"We knew people were chomping at the bit to get more adult-skewing product," Grayson said.
Sony's "Ricki and the Flash" got off to a slower start, picking up $7 million from 1,603 theaters. The film stars Meryl Streep as an aging rocker re-connecting with her estranged family and the hope is that the picture, which appeals to older crowds, will gradually build its audience in the coming weeks. It cost an economical $18 million to produce and is the first release from the rebooted Tri-Star, the label Tom Rothman was overseeing before he took the reins as head of Sony Pictures.
"It's an audience that is probably going to come out over a period of time," said Rory Bruer, distribution chief for Sony. "Films like this have a tendency to play for many, many weeks to come."
The final new release, Lionsgate's "Shaun the Sheep," didn't make much of a stir, opening Wednesday and earning $4 million this weekend and $5.6 million in its first five days in theaters. The studio paid roughly $2 million for the rights along with promotion and advertising costs. The break-even point is at approximately $15 million, making it a low-risk investment.
Among art house players, Sony Pictures Classics' coming-of-age drama "Diary of a Teenage Girl" earned $54,525 on four screens, with a per-screen average of $13,631. IFC expanded World War II thriller "Phoenix" from four to 27 screens, where it generated $135,810, bringing its domestic total to $259,492. Focus World bowed thriller "Cop Car" in three locations and on-demand. It took in $27,000 for a per-theater average of $9,000 and is of particular interest to Hollywood as it was directed by Jon Watts, the man who just took over the Spider-Man franchise.
The top five was rounded out by Warner Bros.' "Vacation" with $9.1 million and Disney and Marvel's "Ant-Man" with $7.8 million, pushing their totals to $37.3 million and $147.4 million, respectively.
Final numbers are still being tallied, but the overall box office will be down steeply compared to the same weekend a year ago, as none of the new films could match the $65.6 million debut of "Teenage Mutant Ninja Turtles" or the $42.1 million second weekend of "Guardians of the Galaxy." It's the second straight week of declines, a sign that ticket sales are slowing down entering the dog days of summer.