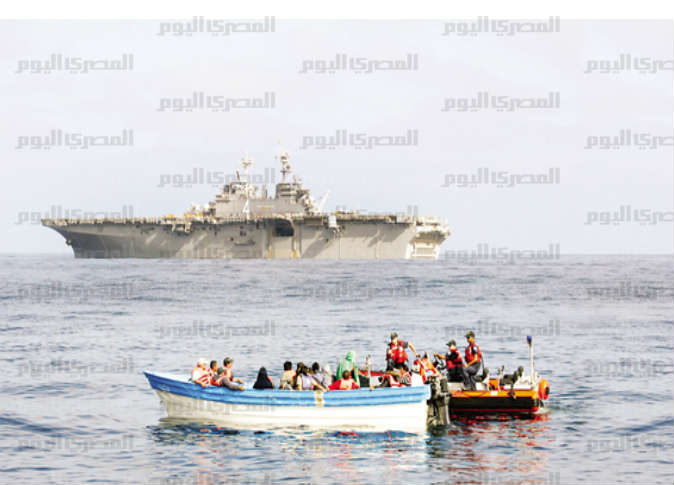 Border guards thwarted an illegal migration attempt made by 21 young Somalians who intended to leave the north coast of Egypt from Borollos city, Kafr el-Sheikh.
The illegal migrants were arrested in the area of Qassaba, west Borollos, as they were preparing to make the crossing to Italy, according to investigations.
The 21 suspects were arrested and their boat was seized.
Egypt has stepped up its efforts to curb illegal migration to Europe recently, partly in response to requests from European nations suffering from mass illegal migration from the Middle East region, particularly Syria.
Military and security forces are involved in ongoing operations to halt the flow of illegal migrants to Europe, conducting frequent raids and inspections on land and sea.
More than 1 million migrants and refugees crossed into Europe during 2015. Syrians made up the largest single group applying for asylum in the European Union in 2015, followed by people from Afghanistan and Iraq, according to figures from Eurostat. Egypt was not among the top 10 countries.
According to the UNHCR, around 136,000 people had crossed to Europe by sea in the first three months of 2016. The International Office of Migration reports that around 3,770 people died while attempting the sea crossing in 2015.
Immigration and Egyptian Expatriate Affairs Minister Nabila Makram spoke out in September about how Egypt can curb illigal immigration, saying, "We have to exert more effort in the field of promoting awareness among people that the countries they are heading to are not goldmines."
The minister said she supports asking countries targeted by illegal immigrants to legalize entry and residency. "That would form a burden on those governments, but, we would love to demand it," said Makram.
In June, the head of the International Organization for Migration (IOM), William L. Swing, said that the European market will need as many as 40 million migrants from countries like Egypt by 2050.
He said the organization would maintain its assistance for Egypt to help curb illegal migration, as well as to provide incentives, job opportunities and training for migrants inside Egypt.
However, Makram said she has reservations on dealing with the IOM, aserting that the international body has to work within the framework of Egyptian laws.
"We have some reservations concerning the IOM," the minister told Al-Masry Al-Youm. "That said, we will coordinate that matter with the Foreign Affairs Ministry, and the IOM is required to operate based on Egyptian laws."
Egypt has been an IOM member state since 1990.
Edited translation from Al-Masry Al-Youm