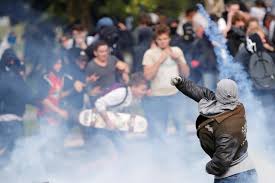 British opposition Labour Party leader Jeremy Corbyn said on Saturday that Prime Minister Theresa May should have sought approval from parliament before ordering cruise missile strikes against Syria.
"Bombs won't save lives or bring about peace. This legally questionable action risks escalating further," Corbyn, a veteran anti-war campaigner, said.
"Britain should be playing a leadership role to bring about a ceasefire in the conflict, not taking instructions from Washington and putting British military personnel in harm's way.
"Theresa May should have sought parliamentary approval, not trailed after Donald Trump."
US, British and French forces launched air strikes on Syria in response to a suspected poison gas attack that killed dozens of people, aiming to degrade its chemical weapons capabilities in the biggest intervention yet in the conflict by Western powers.