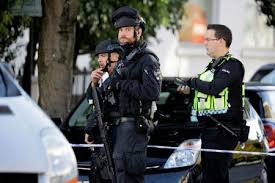 A blast on a London underground train left some passengers with facial burns, London's Metro newspaper reported on its website.
Police said they were aware of an incident at Parsons Green station in West London and that officers are in attendance. London Ambulance said paramedics were present.
Images posted on Twitter showed a women being attended to by emergency services sitting on a pavement.
Police said they were aware of reports on social media and would release facts regarding the incident once they could be sure of their accuracy.
Transport for London said on Twitter that there was no service between Earls Court and Wimbledon on the District Line which runs through Parsons Green.