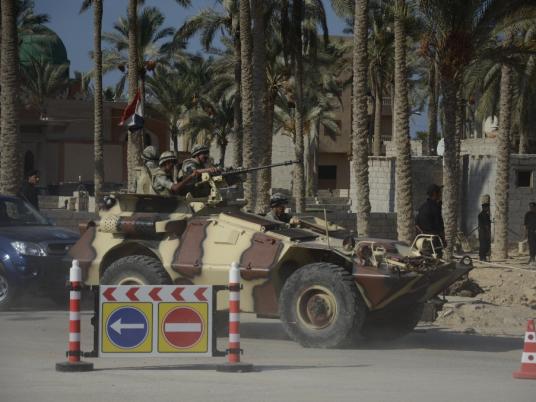 A bomb exploded on a road south of Arish on Tuesday, after an army armored vehicle passed by, causing no damage or injuries.
A security source said it has yet to be determined who had planted an explosive device in the path of the armored vehicle, but it exploded seconds after the vehicle had already passed.
The blast was heard loud at the city of Arish and flames rose up to the sky.
Security forces in checkpoints fired warning shots after the blast, and combed the area to find those responsible for the incident.
Early morning Tuesday, at least 12 people were killed and more than 100 wounded in the massive explosion at a security compound in Egypt's Nile Delta area of Mansoura, Daqahliya.
Daqahliya security leaders held a meeting after the incident, in the presence of the leaders of the Second Field Army and the intelligence, to discuss the security situation.
Sources told Al-Masry Al-Youm that security leaders devised a plan to hunt down terrorist elements in the area, and cleanse Sinai from terrorism. The plan included the closure of all roads leading to the headquarters of the security Directorates, and perform investigation work to stop the escape of terrorist elements to other governorates.
Edited translation from Al-Masry Al-Youm