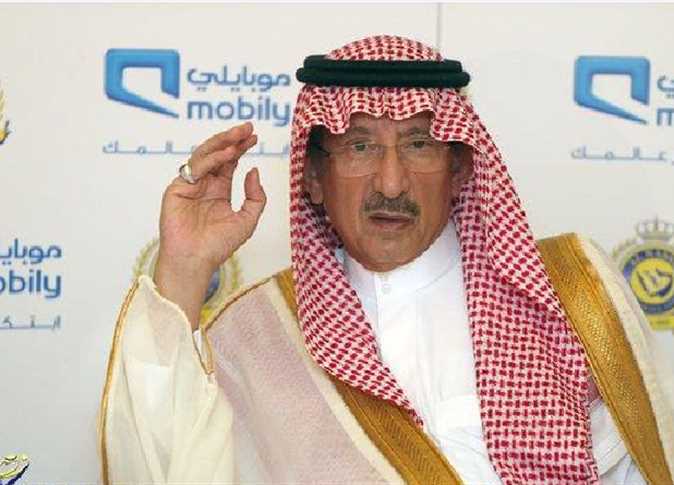 Saudi Prince Turki bin Nasser was among the 11 Saudi elite figures to be arrested on Saturday on charges of corruption as per an order issued by the King.
On a list containing the names of ministers and prominent businessmen accused by the newly formed anti-corruption committee of corrupt practices and the signing of irregular arms deals, Turki bin Nasser's name was at the very top.
Below, Al-Masry Al-Youm traces the main events of bin Nasser's life.
In April 1948, a month before the start of the 1948 Palestine War, Turki bin Nasser bin Abdulaziz Al-Saud was born in  Riyadh, becoming his father's seventh son. in 1980, he earned his BA in political science from the US War College and later his MA from the same institution.
Due to his military background, he was appointed commander of King Abdul Aziz Air Base in Saudi Arabia's Eastern Region, his official position being Chief of Air Staff Operations. In 2000, he was appointed Lieutenant General and Special Advisor to Deputy Chairman of the Cabinet and Minister of Defense & Aviation and Inspector General.
Bin Nasser has served in various military positions, including Commander of Lightning Fighter Conversion, Commander of the Thirteen Squadron, Commander of the Third Flying Wing, in addition to being Project Officer for the Saudi-British al-Yamamah arms deal. The deal included Saudi Arabia paying millions of dollars in arms and bribes, which prompted accusations from journalists and dissidents of bin Nasser being involved in un-holy dealings.
Despite being accused on Saturday of corruption relating to environmental issues, Saudi newspapers call him the "Prince of the Environment".
King Fahd appointed him president of the General Authority of Meteorology and Environment Protection, and promoted him to minister in 2001. He sought to play a vital role in Saudi Arabia's negotiations with Arab Gulf countries to rehabilitate the environmentally damaged areas following the Second Gulf War.
Although he was appointed to several official posts in the kingdom, Bin Nasser served on a voluntary basis as Chairman of the Saudi Autism Society in Jeddah.
He took several international and local training courses, most prominent of which include a course on Tornado Defense Aircraft in the UK in 1989.
He also received a number of decorations including an Order of Merit of the American Commander Rank and a National Order of Merit with Rank of Commander from the French Forces.
Since 2008, he has served as president of the honorary members of the al-Nasr Saudi Club until he resigned from the position in 2016. He praised the efforts of his son, Faisal, chairman of the club, for having achieved several achievements in sports.
Bin Nasser is the cousin of Crown Prince Mohammad bin Salman bin Abdulaziz Al Saud. He is married to princess Noura bint Sultan who is the daughter of late Sultan bin Abdulaziz. He has seven sons; the eldest being Faisal, while the youngest is Abdullah. He is furthermore considered one of the richest people in Saudi Arabia and in the Arab world.