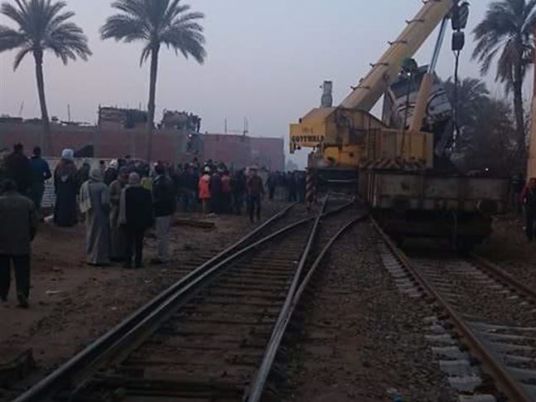 Seven suspects have been arrested after a billboard was made to fall onto the railway track at Kafr al-Hessa village, near Banha city in Qalyubia governorate, causing an oxygen cylinder to explode.
The blast, which caused panic among civilians, held up rail traffic for more than 90 minutes whilst security services dealt with the situation and cleared the track. Al-Masry Al-Youm did not report any casualties resulting from the incident, and the Delta-Alexandria flow of traffic has now returned to normal.
Villagers were able to catch seven individuals suspected of involvement in breaking the billboard. Three oxygen and two butane gas cylinders, along with two welding torches, were found in their possession.
The suspects were subsequently arrested by police and admitted that there had been other people involved, but who had escaped following the blast. They said that one of the runaway perpetrators had agreed to pay them to bring down several billboards. Two more individuals affiliated with him were present at the scene but escaped by car before being caught, said the arrested suspects. One was believed to be from the billboard company.
Efforts are being made to catch the runaway criminals.
Edited translation from Al-Masry Al-Youm