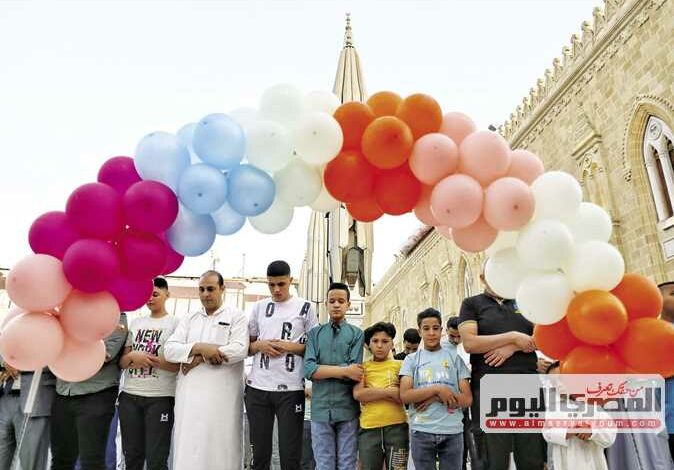 Millions of Egyptians on Monday celebrated the first day of Eid al-Fitr, as public parks and beaches across the country witnessed huge attendance  and many performed the Eid prayers in major mosques and their attached yards.
In Alexandria, the beaches and parks welcomed thousands of citizens to celebrate the holiday, while many from the neighboring governorates eagerly flocked to beaches, parks and zoos.
Citizens also flocked to the archaeological tourist areas, as the Citadel of Qaitbay area witnessed a huge crowd, especially after midday, and most of its visitors came from other governorates to spend the Eid vacation in Alexandria.
The Nozha Zoo received thousands of visitors amid security measures to ensure a safe environment for visitors to relax.
In Qalyubiya, hundreds of citizens flocked to the al-Qanater al-Khairia gardens since the morning on the first day of Eid, to enjoy the gardens and parks.
The head of al-Qanater al-Khairia City Tariq Maher confirmed that the visitors had a peaceful time, and noted that their numbers are expecting to rise across Eid.
At the city of Benha, hundreds of citizens went out to celebrate  on the Nile Corniche which was filled to the brim with citizens and residents eager to celebrate Eid and take photos.
In Sharqiya, the Zagazig Zoo witnessed a great turnout of citizens on the first day of Eid al-Fitr amid the application of all precautionary and preventive measures, in order to ensure the health and safety of the visitors and workers in the park.
Hundreds of citizens at Sohag went out to public parks and gardens to enjoy their holiday. The Flower Garden and Karaman Island in the middle of the Nile in Sohag city recorded the highest turnout rates.
In Kafr el-Sheikh, al-Morsy Mosque in Bella City distributed packages of biscuits to worshipers and children during the Eid al-Fitr prayers, in addition to flying more than 2,000 balloons, and also launching more than 300 carrier pigeons.
In Suez, a large group of members of the marine scouts and volunteers distributed gifts and balloons to worshipers in the yards designated for Eid prayer.
Edited translation from Al-Masry Al-Youm