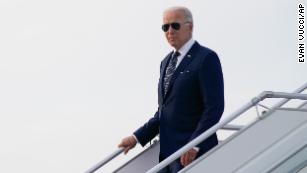 The White House announced on Saturday that US President Joe Biden will visit Egypt to participate in the Climate Summit (COP27) to be held in November.
White House spokesperson Karine Jean-Pierre said in a statement that Biden will attend the November 11 climate summit in Sharm el-Sheikh, Egypt.
"Biden's presence will build on the great work the United States has done to advance the fight against climate change at the global level, and (the US president) will confirm that the world must act in this crucial decade," she said.
In related news, the Israeli Prime Minister's spokesperson for Arab media Ofir Gendelman announced Thursday that Prime Minister Yair Lapid will attend the climate summit in Sharm el-Sheikh.
Gendelman said, through his Twitter account: "Prime Minister Lapid will participate in the climate conference that will be held in the Egyptian city of Sharm el-Sheikh on November 7."
And on Thursday, a British government spokesperson also announced that it did not expect Prime Minister Rishi Sunak to attend the summit, which the United Kingdom hosted its previous version last year in Glasgow.