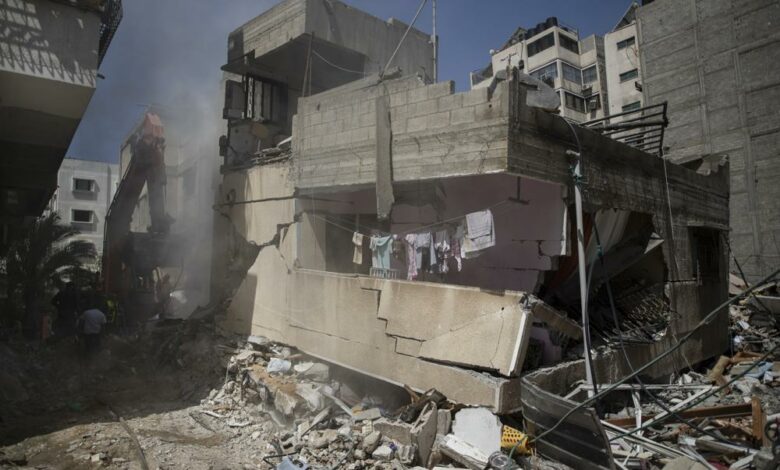 US President Joe Biden thanked the Egyptian President Abdel Fattah al-Sisi and the senior Egyptian officials who played a central role in diplomatic efforts for the ceasefire in the Gaza Strip, after three days of hostilities.
In a statement posted on the White House website this morning, Biden lamented the civilian casualties in Gaza.
Biden added that the US administration supports a comprehensive and timely investigation of all these reports, and calls on all parties to fully implement the ceasefire and ensure the flow of fuel and humanitarian supplies into Gaza as the fighting subsides.
"Both Palestinians and Israelis deserve to live in safety and security, and enjoy equal measures of freedom, prosperity, and democracy, and my administration will remain engaged in supporting this vision and implementing the initiatives launched to improve the quality of life for Palestinians and Israelis alike," Biden said.
The Israeli government announced on Sunday that a ceasefire agreement had been reached in Gaza, which entered into force the same day evening, following a similar announcement by the Islamic Jihad movement shortly before.
A brief statement from the office of Israeli Prime Minister Yair Lapid thanked Egypt for its "efforts to mediate the truce," and warned that if it was violated, "the State of Israel reserves the right to respond forcefully."
The announcement came about fifty hours after the start of the escalation when Israel launched what it called "pre-emptive strikes" on targets of the Islamic Jihad movement in Gaza.
As during the previous escalation in Gaza, Egypt played a central role in efforts to end the fighting between Israel and Palestinian militants.
The terms of the agreement were not immediately announced, but the Egyptian official news agency MENA said that Cairo is working to release an Islamic Jihad activist who was captured by Israel six days ago, as well as transfer a Palestinian prisoner on hunger strike in an Israeli prison to a hospital for medical treatment.