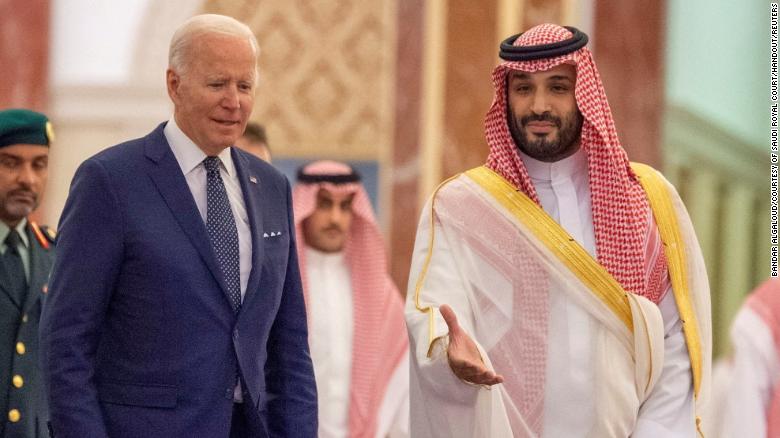 Jeddah, Saudi Arabia (CNN) – It was always going to be awkward — Crown Prince Mohammed bin Salman's greeting with US President Joe Biden.
Much speculated about, the image itself, from a camera position that was denied to the press traveling with Biden, was even more powerful than all the conjecture that preceded it. Like the winner of a long-distance race, the Crown Prince, known commonly as MBS, snatched glory — and reputational redemption — at the finish line.
At the press podium later, Biden confronted the Crown Prince for his role in the killing of Washington Post columnist Jamal Khashoggi. The Crown Prince pushed back, denying responsibility for the 2018 killing of the US resident at the kingdom's Istanbul consulate, as did Saudi officials who questioned the US' human rights record over alleged abuses at its Abu Ghraib jail, during the Iraq War.
But that image of the fist bump was what the Saudis wanted — a reputational boost putting MBS in pole position in a region where rivalries and power plays are a fact of life.
Nevertheless, Saudi Arabia's Foreign Minister, Prince Faisal bin Farhan, claimed it was good for Biden, too.
"I see the image as a win for President Biden, I think, because he is engaging with one of the key partners of the United States, in the region, and beyond. The Kingdom of Saudi Arabia is a key player in regional stability," he told CNN in an exclusive interview.
Biden came to the desert kingdom first, rather than other energy-rich Gulf kingdoms such as the United Arab Emirates or Qatar, and did business with the de facto leader of the nation he on the campaign trail vowed to make a "pariah."
Nevertheless, Biden signaled success, hinting more oil will flow from the region to counter the reduced flow from Russia in the wake of Western sanctions imposed following Moscow's invasion of Ukraine. But the President came home without a public promise of increased oil production. Pressed by reporters on the issue, Biden said, "I'm doing all I can to increase the supply," adding that increases would be seen in weeks. "We'll see more when we see gas stations start to lower their price consistent with what they're paying for oil," he added.
But there was more on Biden's wish list — specifically his desire to increase regional stability by normalizing Saudi/Israel relations, as well as filling what he called a "vacuum" caused by cooled US relations with MBS that is allowing China and Russia to increase their influence in the Middle East.
Apart from the "finish line" fist bump photo op, MBS wants a clear strategy from the White House on the Gulf. Saudi specifically wants security guarantees, US partners for the myriad business ventures the Crown Prince's ambitious "Vision 2030" is generating, and a partner in government in Israel who can deliver on what it wants for improved relations.
The questions concerning all the issues faced in the Jeddah meeting are: What's the cost and where's the compromise? Pain versus gain.
Biden says he won't let Iran get a nuclear weapon. MBS has indicated if it does, he'll get his own. And while Israel wants a strike option to prevent a nuclear Iran, MBS fears a war could cripple his economy. Nevertheless, he wants Iran's threat gone, while the White House signals Russia is increasingly partnering with Iran.
No deal discussed in the region is ever simply bilateral. This one was made more complex at the meeting of the Gulf Cooperation Council (GCC + 3) — an alliance of Saudi Arabia, Kuwait, the UAE, Qatar, Bahrain and Oman, plus Egypt, Iraq and Jordan — Saturday by the UAE and Iraq flatly ruling out joining any security agreement that might affect Iran.
Riyadh sees the benefit of rapprochement with Israel, but realizes that if it were badly handled, it could cut down its towering role in the Muslim world, blowing back not just on Saudi, but the US and Israel, too.
The price of a Saudi-Israel deal, which even before Biden arrived seemed an extreme aspirational outlier, will be high.
If it had been done during the Biden visit, the cost would have been even higher, because the Saudis believe no Israeli leader can deliver on the commitments they want — currently a Palestinian two-state solution.
Saudi Arabia is not saying publicly what security guarantees could offset that, but a free flow of weapons, a defensive missile shield to protect against Iran, even NATO-style commitments to come to the kingdom's aid in extremis could be on its wish list, along with toning down criticism of the Saudi human rights record.
Nonetheless, Biden's visit was able to deliver a narrowing of Saudi-Israel differences.
At a press conference listing his "wins," the first two successes that Biden cited were a Saudi concession to Israel, and one from Israel for Saudi.
The US President said "the Saudis will open their airspace to all civilian carriers … it means Saudi airspace is now open to flights to and from Israel." Biden defined it as a "tangible" first step toward a "broader normalization of relations."
The second item on Biden's list was "a historic deal to transform a flashpoint at the heart of the Middle East wars into an area of peace," with the Saudis agreeing concessions assuaging Israeli security concerns over the strategic Red Sea islands of Tiran and Sanafir.
The inescapable backdrop to the meetings was the sense of the White House playing catch-up in a region where many feel both the current and previous administrations have been negligent. US officials were briefing about Russia's increasing support for Iran, and a deal with Saudi to counter China's influence through 5G technologies.
If Biden arrived thinking he was ready to play his best diplomatic hand to improve relations amid energy shortages and security concerns, the fist bump, despite the backlash, may have been it.
Early readouts suggest Biden's vision of future US-Middle East engagement was just what the Saudis wanted to hear, despite the warnings on human rights violations.
If Biden is right, and gas prices do come down, that's also a win at home. But the hard work on improving relations will have only just begun; the Saudis will be looking for follow-ups, an invite to Washington for MBS.
If this were to happen, Biden would no doubt put a high price on it. Fist bumps would be thin on the ground.