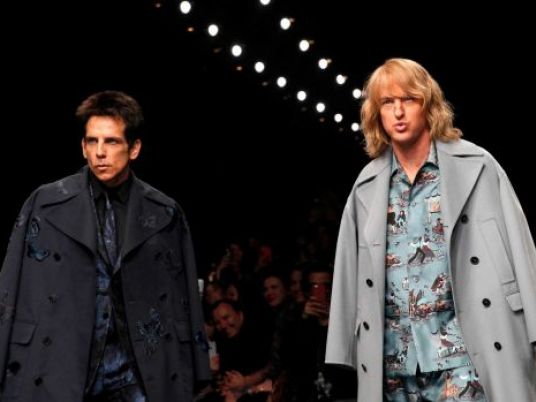 Actor Ben Stiller revealed on Tuesday he was diagnosed with prostate cancer in 2014. The tumor was surgically removed three months later, in September 2014, and Stiller has been cancer-free since.
Stiller shared the news on Howard Stern's Sirius XM radio show, and in an essay posted online.
According to Stiller, it was the prostate-specific antigen test, a blood test known as the PSA, that saved his life. He was tested and treated in his 40s.
But the American Cancer Society recommends testing start at age 50 for men such as Stiller, who are at average risk of prostate cancer. Men at high risk, including African-American men and those with a father, son or brother diagnosed with prostate cancer at an early age should be screened at age 45, the American Cancer Society recommends.
"This is a complicated issue, and an evolving one," Stiller wrote, acknowledging that there's differing advice about when — or if — to take the test.
"But in this imperfect world, I believe the best way to determine a course of action for the most treatable, yet deadly cancer, is to detect it early."
Are early PSA tests better?
Stiller's doctor offered to give him a "baseline" PSA test when Stiller was about 46, according to his post. PSA tests measure how much prostate-specific antigen substance is being produced by the prostate, and if the levels are high, it could be a sign of prostate cancer.
Most men are not tested until they are older, around 50, but Stiller agreed to the baseline test.
"I have no history of prostate cancer in my family and I am not in the high-risk group, being neither  —  to the best of my knowledge  — of African or Scandinavian ancestry. I had no symptoms," Stiller wrote.
"What I had —  and I'm healthy today because of it  — was a thoughtful internist who felt like I was around the age to start checking my PSA level, and discussed it with me."
Over the next year and a half, Kruger continued to monitor Stiller's PSA levels, testing the actor every six months. When his levels continued to rise, Stiller was sent by Kruger to be examined by a urologist, who then ordered him to have an MRI screening of his prostrate.
When the results came back, the news was blunt: "So yeah, it's cancer," the urologist told Stiller.
Prostate cancer is the second-most common cancer in men in the United States, after skin cancer, according to the National Cancer Institute, and is the second-leading cause of cancer deaths in men. Prostate cancer usually grows slowly, the institute notes, and it often has no early symptoms.
"Finding and treating prostate cancer before symptoms occur may not improve health or help you live longer," the National Cancer Institute said.
Stiller was told that the disease was detected early and was treatable, he wrote. He underwent a biopsy of his prostate, which revealed he had "mid-range aggressive cancer."
The best option for Stiller was to get rid of the tumor through surgery. Edward Schaeffer performed a robotic assisted laparoscopic radical prostatectomy, successfully removing the cancer.
"If he had waited, as the American Cancer Society recommends, until I was 50, I would not have known I had a growing tumor until two years after I got treated," Stiller wrote.
"If he had followed the US Preventive Services Task Force guidelines, I would have never gotten tested at all, and not have known I had cancer until it was way too late to treat successfully."
The case for delaying prostate cancer screening
The American Cancer Society supports PSA testing, but it warns there are downsides to testing.
"The thing Ben Stiller doesn't understand is that his case is based on one positive experience," said Otis Brawley, chief medical officer of the American Cancer Society. "He hasn't heard of all of the men who have had negative experiences [with PSA testing]."
The society suggests that men who are 50 or older should weigh the harms and benefits of PSA testing, discuss their views with a doctor, and may choose to get tested. Men who are at "high risk" for developing prostate cancer — those who have a family history of cancer, or are African-American, for example — may opt for PSA testing earlier, some when they are as young as 40. Some men never choose to get screened.
While Stiller sheds a good light on PSA testing, Brawley warns about the risks of the tests.
"The tests have bad operating systems," Brawley said. "They sometimes miss cancer that needs to be found, and they find cancer that doesn't need to be found."
As a result of a misleading PSA tests, men may be diagnosed with prostate cancer and treated unnecessarily, leaving them vulnerable to health risks associated with biopsies and surgery.
When men's PSA levels are tested before they are 50, there may be more chance of error in testing, Brawley said. The average age of men diagnosed with prostate cancer is 67, according to the American Cancer Society.
Along with the physical stress of undergoing screenings, tests and biopsies — a test "as invasive as it gets: long needles in sensitive places," Stiller wrote — there are psychological stresses involved with PSA testing. Being confronted with the numbers on a regular basis, especially if they are rising, may cause depression and even suicidal thoughts in men, Brawley says.
Instead of arguing for or against PSA screening, Brawley says he wants a better prostate cancer detection test.
He hopes that the public will read Ben Stiller's report conscientiously, rather than pushing for testing without considering the consequences.
"The bottom line is, there's more harm associated with prostate cancer screenings than good," Brawley said.