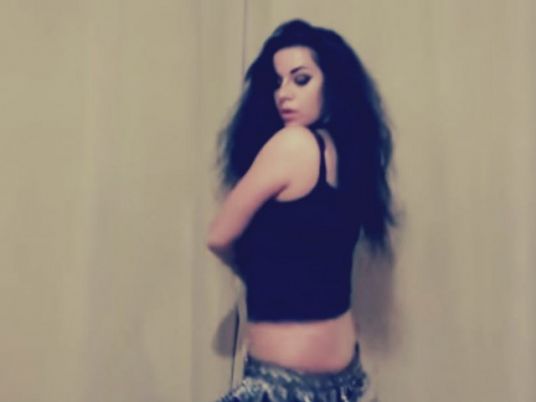 In a peaceful response to IS's brutal practices, social media has recently been flooded with satirical video clips where the group's military anthem, 'Salil al-Sawarem' (Saber-rattling), is used. Though the creators of these videos are unknown, the clips were made using the Dubsmash application, snippets of people dancing to the anthem and comedic scenes from famous movies.
Among the dozens of attempts to mock the IS, a two-minute clip stood out from the rest, showing a woman dancing very professionally to the armed group's anthem, resulting in a very popular response on social networking websites.
The clip belongs Ukrainian dancer Diana Bastet,
who decided to start teaching belly dancing online. She has been posting her videos on her Facebook page and YouTube channel since 15 February. Bastet's videos have surpassed 800,000 views since then.
Bastet, who has been performing at rock concerts for the past six years, denied links to the clip showing her dancing on the IS's anthem, saying she did not know about the group.
In an exclusive statement to Al-Masry Al-Youm, Bastet said she was always open to cooperation, but was annoyed that her video was used without her permission.
"I did not know anything about the IS before watching the other version of the video and neither did my friends and followers. I am just trying to make art," she added.
Bastet expressed dissatisfaction with the context in which her dance was used saying, "I do not wish to participate in any campaigns of political or religious nature. My art and I are far away from all these things."
The dancer posted a statement on her Facebook page on Tuesday evening stating:
"I am Ukrainian and I live in Ukraine. I am a dancer and a designer of clothing. I am far away from the Middle East in all senses (traditional, political, religious… etc.), I just like belly dancing as an art. That's all. I don't know [ISIS] well and don't want to know anything about them. I don't want to see/hear my name next to a war theme. And of course, because of this I didn't like what somebody did with my last short video to 'Master of Puppets.'"
Although the original video did not exceed 9,000 views on Youtube, the modified version exceeded 35,000 views.
Edited translation from Al-Masry Al-Youm