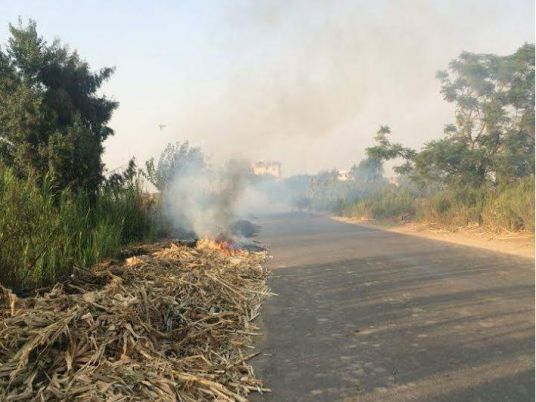 A recent decree in the governorate of Beheira banning the burning of straw and wood has met with limited success, according to a resident named Mahmoud Elewa, with some farmers continuing to burn agricultural waste, while others have been dumping it by the roadside.
A resident of the village of Salamon in Kom Hamada contacted Al-Masry Al-Youm's citizen journalism page, Sharek, complaining of the failure of the decree and attaching photographs showing the burning of rice straw.
The burning of agricultural waste is one of the chief causes of air pollution in rural areas of Egypt, and environmental activists say it can cause respiratory problems for anyone breathing the smoke.
In his contribution to Sharek, Elewa said he is calling the Environment Ministry to step in and stop the practice this year.
One of his messages to Sharek reads, "The villages here in Kom Hamada in Beheira will be enveloped in a cloud of black smoke because of people burning rice straw, and right there where people are living. We have elderly people living here and because of this many of them have to go to the hospital after feeling like they were suffocating."
Elewa adds, "No one wants to help us, neither local officials, nor officials from the Agriculture Administration, nor the Environment Ministry. Nobody wants to step in to help because they don't have any alternatives to offer."
While Elewa applauds the decree banning the normal burning practices, he says the consequences were not properly thought through, since famers were given no alternatives.
He continues, "A month ago, there was a decree issued that banned the burning wood or farm waste, but no other alternatives were provided, so people continued doing it. They should help farmers get rid of their waste in a civilized way. Farmers then didn't know what to do with all the unwanted materials they had so they dumped them on the roads which resulted in more car accidents occurring. Someone needs to step in and sort out this debauchery."
The decree reads as follows:
"As per an agreement between the Ministry of Agriculture, the Ministry of Environment and the Interior Ministry:
— It is strictly forbidden to burn rice straw.
— It is strictly forbidden to burn corn wood.
— It is strictly forbidden to burn any agricultural waste.
Anyone who violates these laws will be subject to the following penalties:
— Investigations will be done to find out who burned what in Kom Hamada.
— An L.E. 5000 fine will be paid to the Ministry of Environment.
— Prison for a year for anyone who repeats offences from last year.
Important notices:
— Satellite images will be taken of lands that violate these rules.
— We will be arresting people day and night.
— We will be arresting on weekends."
The burning of rice straw, which takes place every autumn, is a major contributor to Egypt's air pollution problems, especially in conjunction with the open-air burning of garbage.
As far back as 2010, Environment Minister Maged George, said, "Burning rice straw accounts for six percent of Egypt's air pollution throughout the year, but during the rice harvesting season this figure jumps to 45 percent."
In recent years, successive government has sought to reduce air pollution, including that caused by the burning of agricultural waste.
Measures have included promoting the use of natural gas as fuel for vehicles, factories and power plants, and imposing bans on the burning of farm waste. The government has also encouraged the recycling of rice straw instead of disposal through burning, with some foreign development partners providing assistance with small-scale projects.
However, such projects are not active across Egypt, and most farmers lack the support to transform their organic waste, opting instead for the traditional burning practices.