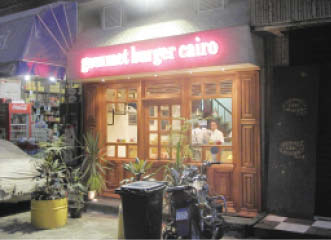 It's not quite clear why or what exactly is happening, but over the past year or so, dozens of entrepreneurs and investors — particularly in Zamalek, but also in other areas, like downtown — have opted to get into the fast food and service industry.
At a time when the economy is said to be suffering, some folks seem to see opportunity in establishing these modern food outlets. Gourmet Burger Cairo is the latest addition to this trend in Zamalek — and it offers a bit more variety than your typical burger joint.
Obviously, since Gourmet Burger serves burgers, the place is intended to appeal to Western-leaning appetites. And for those of us who are not vegetarians but have long opted to stay away from the likes of McDonalds and Burger King, this restaurant is a great addition to the city.
Having just opened last week, the restaurant was offering free burgers around Zamalek for a short time; feeling quite hungry, a friend and I opted to go and try it out, after much convincing from boys handing out fliers about how good the burgers are.
The humble, understated venue, located just off of Brazil Street in Zamalek, feels more like a side street cafe than a burger joint. The venue is small, wooden and minimally decorated, with a few stools and counters, and an assortment of books which customers can read and also exchange their own books with.
The menu is simple and is on a single flyer or blackboard on the wall. True to its name, the venue mostly serves burgers, as well as a few sides and appetizers such as onion rings and grilled halloumi.
I ordered the New York Cheeseburger, complete with lettuce, cheddar cheese, mayonnaise, tomato and onion, and it came with fries and a soda. My vegetarian friend ordered the Lebanese burger, which had grilled halloumi, grilled vegetables, olive oil and herbs. We also ordered onion rings and grilled vegetable skewers.
Both orders were excellent and live up to the restaurant's name, catering to a gourmet palate and filled with flavorful herbs. The menu says the meat is cooked medium-well unless requested otherwise; however, it was certainly a little overcooked for my taste.
Despite that, both sandwiches were satisfying. And it only took 15 minutes to get the meals.
The vegetable skewers and onion rings were great too — just what you'd expect from an American diner or burger joint.
Other burgers offered include a Japanese Fish Burger, with arugula, fish fillet, tartar sauce and lemon; a Lamb Burger, either Greek-style, with lamb, lettuce, tzatziki sauce, tomatoes or onions, or Indian-style, with lamb, lettuce, curry sauce, onions, tomatoes and jalapenos.
A cheeseburger meal costs LE39, compared to a McDonald's meal for about LE25. The vegetarian meal was slightly less. But the product is obviously far superior to McDonald's and better than burgers offered at Mince, another new burger joint in Zamalek — though that could be a matter of taste.
Gourmet Burger doesn't offer alcohol. The restaurant does offer ice cream for those still interested in dessert after their meal.
This piece was originally published in Egypt Independent's weekly print edition.