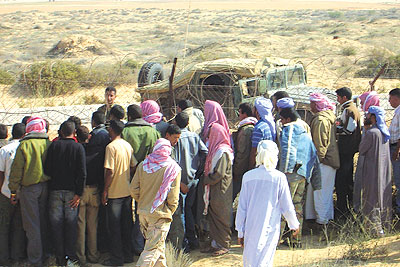 A 17-year-old Bedouin was killed and another another two injured after a violent clash erupted between Bedouins in Wassat (Central) Sinai on Wednesday, said security and medical sources.
The violence took place in Nekhel City's Mahla area, with the Bedouins using machine guns to fire bullets at each other.
Ahmed Hassaa was fatally killed after a bullet hit his chest, while 25 year-old Mohammed Mokbal and 23-year-old-Mohammed Selim survived the violence with injuries from bullet wounds.
Hassan was transferred to the Central Nekhel Hospital following his death, while Mokbal and Selim were transferred to the Public Suez Hospital to receive treatment.
The prosecution notified investigative bodies to initiate an investigation into the violence.
Edited translation from Al-Masry Al-Youm