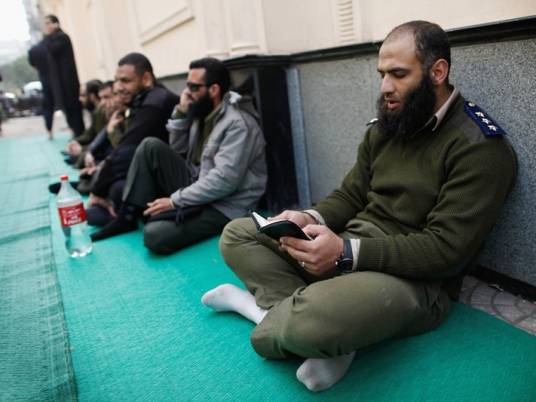 Bearded policemen continued their sit-in for the 15th consecutive day in front of the Interior Ministry in downtown Cairo.
The number of tents set up by protesting policemen went down from four, with protesters congregating in one large tent.
A number of policemen with beards declared two weeks ago that they would stage an open-ended sit-in at the ministry to force it to implement a Supreme Administrative Court ruling affirming their right to work with beards.
The ministry had previously prohibited policemen from growing beards, but a number began to push for the right to grow facial hair recently, citing religious freedom.
However, the ministry claims the ruling didn't stipulate the policemen's right to grow beards but instead struck down their transfer to administrative jobs.
The court had ruled that the policemen had already been referred to a disciplinary board and therefore couldn't be penalized twice for the same violation.
Edited translation from MENA