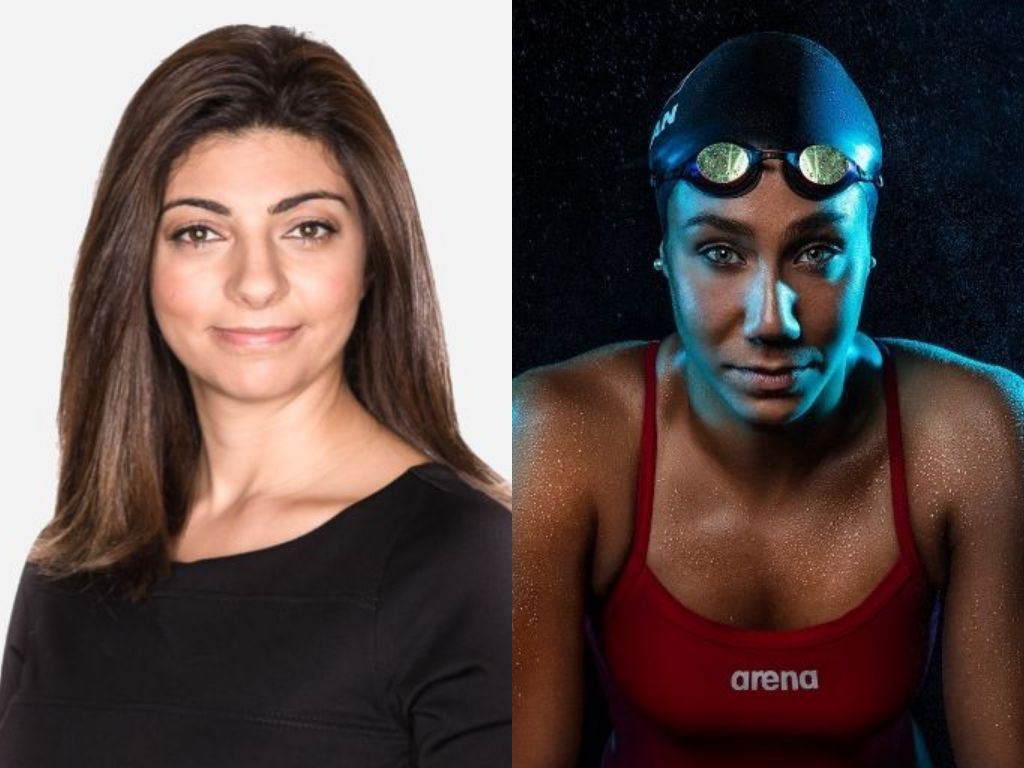 Two Egyptian women, acclaimed swimmer Farida Osman and AI entrepreneur Rana al-Kaliouby, are part of the BBC's 2019 list of 100 inspiring and influential women.
"This year 100 Women is asking: what would the future look like if it were driven by women?" the BBC said on its official website.
The BBC listed women from various cultures, backgrounds and countries in diverse fields such as sports, science, climate change activism, politics and more.
Saudi artist Manal AlDowayan, Iranian athlete Kimia Alizadeh, Syrian Architect Marwa al-Sabouni, Kuwaiti women rights activist Alanoud Alsharekh are some other female Arabs on the list.
Regarding the selection process, the BBC said that its network of World Service languages teams gathered many names from which the final 100 women were shortlisted. They focused on finding amazing women who recently made international headlines, inspiring the world through their groundbreaking successes.
Osman, nicknamed "The Golden Fish", was the first Egyptian woman to snatch the bronze medal in the 50m butterfly at the FINA World Aquatics Championships in 2017. Aiming even higher, Osman dreams of earning a medal at the highly-anticipated 2020 Olympic Games in Tokyo.
Speaking to the BBC, Osman expressed another dream of hers, "My hope for the future is to have more female athletes excel at their sport in order to represent Egypt well internationally. I want them to believe in their dreams and do whatever it takes until it becomes a reality."
Following her qualification for the 2014 NCAA Championships, the prize swimmer received the NCAA All-America honors. Her participation in the 2015 Pac-12 Swimming Championship was crowned with the second-straight conference title, according to the Swim Swam sports website. Osman also broke the record as the first ever Egyptian to swim 100m freestyle and butterfly.
She represented Egypt at the 2012 Summer Olympics in London, where she won second place at the 50m freestyle, and at the 2016 Rio Olympics where she made a new Africa record at the 100m butterfly by finishing in 12th place at a time of 58.26, according to her Swim Swam bio.
Pushing her career ever forward, the international swimming champ won three medals at the Mediterranean Games; gold in the 50m freestyle (24.83) and 50m butterfly (25.48) and silver in the 100m butterfly (58.51), Swim Swam wrote.
Kaliouby, recognized by the BBC as a pioneer of artificial emotional intelligence, has developed a unique software through her startup "Affectiva" that is capable of understanding human emotions through facial expressions caught on camera. The software is being used to recognize when vehicle drivers are falling asleep.
"AI is at an inflection point: it's increasingly acting on our behalf, taking on roles traditionally held by people. As we plan for a future, we need to ensure that diversity of all kinds – gender, race, age, education and perspectives – are represented," Kliouby told BBC.
She was also featured on Fortune's 40 Under 40 as well as Forbes America's Top 50 Women in Tech.
"My life's work is about humanizing technology, before it dehumanizes us," the University of Cambridge PhD holder wrote on her LinkedIn account. She adds that she is driven by her desire to bring the emotional artificial intelligence into the digital world.
Rana holds a PhD from the University of Cambridge and a post-doctorate from MIT. With a passion for gender equity in the technology and AI fields, Rana is a World Economic Forum Young Global Leader, according to her BBC profile.
Her start-up company "Affectiva" is funded by over $50 million in venture capital from various entities supporting the translation of scientific innovations into highly demanded products in the market.