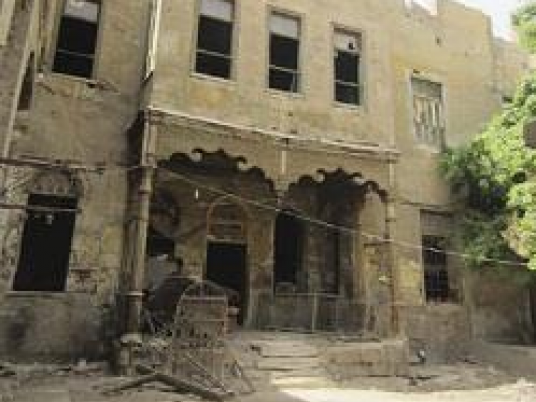 Bayt Madkour Pasha, a house built in accordance with Islamic architecture in the 19th Centurty, is at risk of being demolished in Cairo. Considered by some to be an archeological site, many people are fighting to keep the building from being razed to the ground.
The building was named after a prince and senior dignitary and is located in the al-Darb al-Ahmar district. In 2011, the Antiquities Ministry refused to list it as an archeological site as it was considered insignificant, thereby encouraging the owners to want to destroy it.
On December 11, 2014, however, Al-Masry Al-Youm received a letter issued by the Islamic and Coptic Monuments Sector at the Antiquities Ministry confirming the house was historic and demanding any demolition be stopped.
Mohamed Nessim, a resident at Bayt Madkour Pasha, said: "Forty-three families have lived in the house. There were 20 families in the 1950s and 1960s." The house once had interesting archeological details which disappeared over time due to negligence. After the revolution, the owners decided to demolish it, added Nessim.
The entrance to the house has already been deliberately burnt down to facilitate the demolition process, said Nessim. The house sits on a 2,200 square meter plot of land and has eight entrances, as well as a main gate.
Campaigns have been launched on social networking websites to save this house, as well as other neglected houses of archeological interest, from demolition.
Architect and member of the "Save Cairo" campaign Amina Abdel Bar said, "Bayt Madkour Pasha dates back to the Memluk era in the 19th Century." She added that the house was located on a street in the poor al-Darb al-Ahmar district which dates back to the 14th Century.
Though the house was orginally considered an archeological site, it was removed from the list in 2011, which according to Abdel Bar, was a mistake. The Antiquities Ministry has been ignoring the fact that archeological houses in Cairo are being demolished, she said.
Bayt al-Mohandes, another historical house located close to Bayt Madkour Pasha, was demolished a few days ago by its owners, added Abdel Bar.
Edited translation from Al-Masry Al-Youm