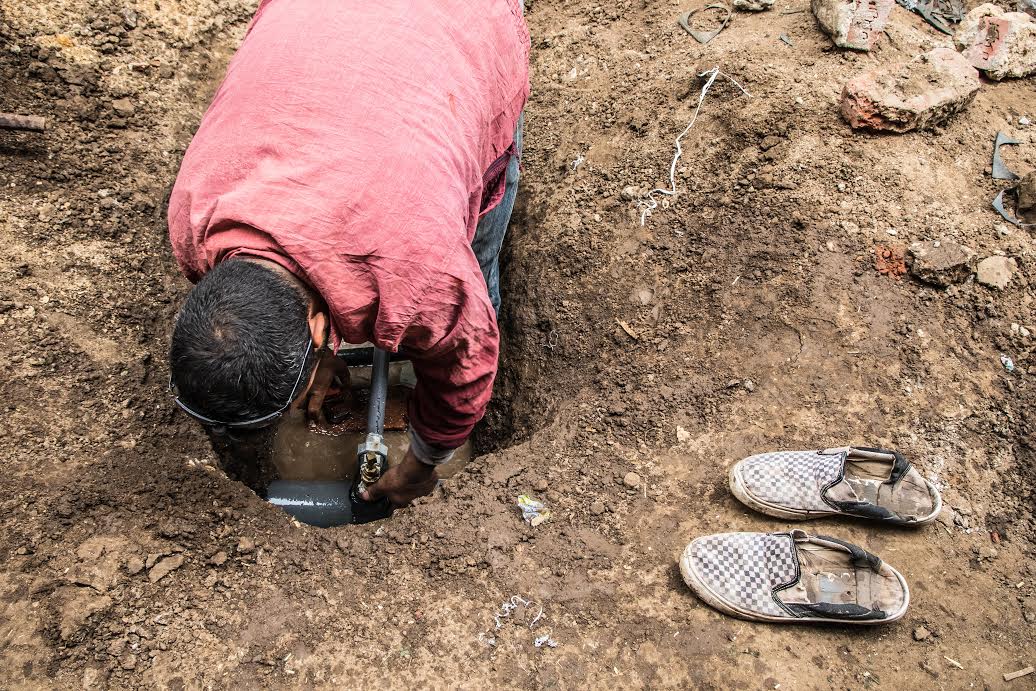 One out of many basic needs to ensure a minimum quality of life is water.
Egyptians in many areas, especially those in underprivileged villages in Upper Egypt, have been deprived of water resources for many years. They often resort to buying from water vendors who roam areas where there are shortages.
In an effort to find a solution to this crisis, a group of young volunteers from the start-up "Bassita" (Simple) launched an initiative that would help raise money for charity through users' clicks on social networking websites.
The initiative takes advantage of Egyptians' tendency to participate in charitable initiatives, the high number of Facebook users in the country, and the long time Egyptians usually spend browsing such social networks.
The concept is adapted around the type and number of interactions on these sites. For example, when a user clicks the like or share button or writes a comment on a Facebook post by "Bassita", that interaction is then translated into money (paid out by sponsors and donors).
The "Bassita" team called this process "clickfunding", a method of raising money by pressing a button.
"Bassita" was founded by Salem Mesalaha, who spent the majority of his life in France, along with other founders including a French friend of his.
Mesalaha said the idea behind the initiative is purely Egyptian. "We do not have to copy European ideas. This time we invented an Egyptian method that will hopefully be copied by Westerners," he said.
"Bassita" coordinates with non-profit organizations in order to create a promotional video of the charitable work they want to carry out in a particular region or for people in need of specific donations or reforms to improve their living conditions, health or education. The project videos are presented by charitable celebrities in a bid to catch the attention of a wider audience.
Once "Bassita" agrees with sponsors and donators to these charitable organizations on the price for a certain number of clicks by users, the video gets published on social networking websites.
Each interaction by a user on the video scores a point until the targeted number of interactions is achieved. The number of interactions is calculated through a progress bar which monitors the number of clicks until it reaches 100 percent, said Mesalaha.
The progress bar registers a like as two points, a share as three points and a comment as five points, Mesalaha explained. These points translate into a certain sum of money to be paid by the advertiser or owner of the video (usually a charitable organization).
So quite simply, the more that the online community engage with the promotional videos through their clicks, the more the sponsors will fund the charitable initiatives.
The initiative involves those who want to participate in charitable projects but do not have enough money to donate themselves. They will be able to participate with the smallest effort—clicks, Mesalaha added.
"Bassita" successfully participated in a joint campaign with UNICEF to provide running water for 1,000 houses in south Egypt.
"The happiness on people's faces after water reaches their houses for the first time is unforgettable," Mesalaha said.
"Bassita" published a video in February 2016 featuring actor-comedian Maged al-Kedwany to promote the idea of clickfunding with the hashtag "A click conveys water". The video hit over 2 million views in just three days.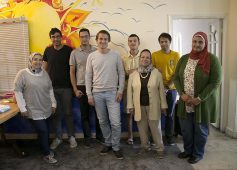 The team behind the idea of "Bassita" fundraising project
Within six months, running water was accessible in 1,000 houses through water pipes in four provinces in south Egypt, according to UNICEF. The project included a hygiene awareness program and cost $170,000.
"Bassita" has participated in many campaigns with charities that aim to improve the community role in poorer cities and villages. One such campaign provided food and blankets to over 7,000 families in cooperation with charitable banks. Another campaign established a range of community schools to educate disadvantaged children in cooperation with Misr El Kheir foundation, as well as eyeglasses for 100 men and women whose trade is knitting.
Besides raising donations, "Bassita" aims to promote empathy among Egyptians toward the needs of others and encourage philanthropy, Mesalaha mentioned.
"We are not promoting the foundation itself, but rather charity as a valuable cause in society," he said.
"Bassita" is planning more campaigns soon in coordination with other charities like "Helm" (Dream) to prepare accessible roads to Cairo University for people with special needs, and another campaign with "Safarny" (Let Me Travel) association to educate children about other cultures.
For more information, visit http://clickfunding.org/en
This article was originally published in Al-Masry Al-Youm and reposted by its English edition Egypt Independent as part of our participation in Impact Journalism Day on which 50 of the world's leading newspapers feature 60 social innovators who come up with innovative, beneficial solutions for better access to health and education, respect for the environment, good nutrition, sustainable energy.