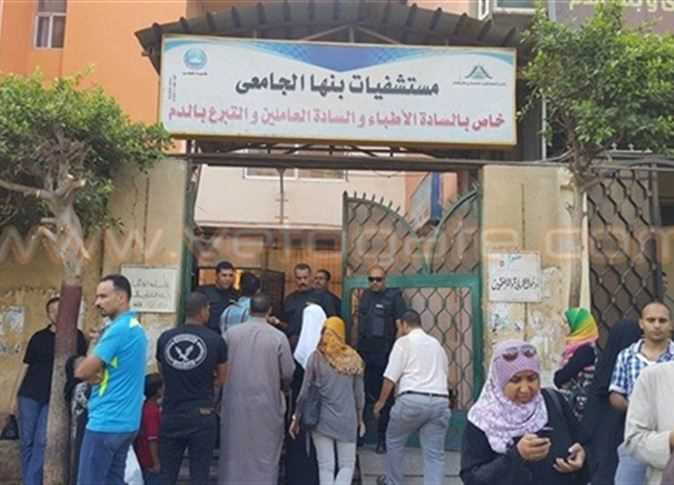 Banha's Prosecution Office ordered the supervisor of elevators at Banha University Hospital to be detained for four days on Monday, pending an investigation into the collapsed elevator at the at the hospital.
Seven people were killed on January 31 after an elevator collapsed at Banha University Hospital, in Egypt's Qalyubiya governorate.
The seven victims were all stood inside the elevator when it collapsed. The elevator had plummeted from the hospital's seventh floor and crashed on the ground floor, after the main operating wire for the elevator had been damaged, according to the latest investigations.
The prosecution office also released the director of the engineering department and the electrical engineer at the hospital on Monday, with a bail of LE20,000 each. They face charges of gross negligence, after all of the elevators were found to be in violation of the safety specifications.
The undersecretary of the Faculty of Medicine, Dr. Ibrahim Rajeh, who is in charge of the university hospital, submitted his resignation from all his positions at the university, namely the Undersecretary of the Faculty of Medicine, and Director of the University Hospital, as he was unable to continue in the bad conditions surrounding the hospital.
On Sunday evening, a fact-finding committee of the Engineers Syndicate held a press conference to announce its report on the incident.
Tariq al-Nabarawi, the head of the Engineers Syndicate, said that the syndicate considers this incident an insult to the engineers and the engineering profession, saying the elevator incident is painful felt, and that those responsible will be referred to a disciplinary board before the union.
Nabarawi also mentioned that the report of the fact-finding committee will be submitted to the Public Prosecution, Banha University, and the cabinet, because the union plays its role as engineering consultant to the state, as it is heavily involved in all national issues and projects, providing engineering expertise, voluntarily and without summoning.
Mohamed al-Nimr, who is the head of the fact-finding committee, said that the elevator had been subject to a lack of maintenance since 2009.
Nimr highlighted the severe engineering defects of its design, saying the materials used were poor, and reiterated that the main cause of the incident was a lack of preventive or periodic maintenance.
The committee recommended halting the operation of all the elevators in the hospital suffering from serious negligence, due to the threat of the incident recurring, as all the elevators in the building shared the same defects.
Edited translation from Al-Masry Al-Youm