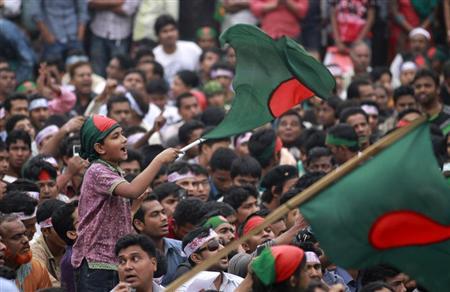 Bangladesh's opposition accused authorities of placing their leader under virtual house arrest Thursday as tens of thousands of troops were deployed across the country ahead of elections next month.
Amid growing violence in the build-up to the 5 January general election, the main opposition Bangladesh Nationalist Party (BNP) said police were barring anyone from visiting their leader Khaleda Zia at her home in Dhaka.
The move comes after Zia, a two-time former premier and arch rival of current Prime Minister Sheikh Hasina, called for supporters to stage a mass march on the capital this Sunday aimed at scuppering the polls.
The BNP is one of 21 opposition parties which are boycotting the elections over Hasina's refusal to stand aside and allow a neutral caretaker government to organise the contest.
The country's largest Islamist party, Jamaat-e-Islami, has also been banned from taking part.
"Since yesterday she has been under virtual house arrest," BNP vice-president Shamsher Mobin Chowdhury told AFP.
"Police are not allowing anyone, including party leaders and activists, to meet her. It is part of a government move to foil the December 29 march for democracy."
Deputy commissioner of Dhaka police Lutful Kabir confirmed that extra officers had been deployed outside Zia's home in the upmarket Gulshan neighbourhood but said the move was designed to "enhance her security".
Police confirmed two senior BNP members, including a current lawmaker, were detained outside Zia's home on Wednesday night but denied the arrests were made because they wanted to meet her.
With Hasina and her Awami League party determined the election goes ahead, troops are being sent to nearly every corner of the country at the end of what has been an unprecedented year for political violence.
A total of 269 people have been killed since January, either in protests at the elections or by Islamists who have seen several of their leaders sentenced to death from crimes dating back to the 1971 independence war.
The authorities are expecting Sunday's rally to further inflame tensions with Zia having made clear its purpose is to force a last-minute cancellation of the polls.
"This march is to say 'no' to these farcical elections and to say
'
yes' to democracy," she said in a speech on Tuesday.
Troop deployments
The troop deployments are expected to infuriate the BNP which has accused the government of trying to set the army up against normal civilians.
Election Commission spokesman S.M. Asaduzzaman said that troops would be deployed in at least 59 of the country's 64 districts.
"They'll be used as a striking force if there is any violence and they will patrol important areas, streets and highways," he told AFP.
While a small number of soldiers had begun taking up positions earlier this week, military spokesman Muhammad Reza-ul Karim said the mass deployment began Thursday and will continue until 9 January.
"The troops have been deployed at the request of the Election Commission… in an effort to ensure free, fair and peaceful elections," Karim said in a statement.
The soldiers would initially be deployed to the main towns and cities in the districts before then moving into more rural areas.
He did not say how many troops were being deployed but local media put the number at around 50,000.
The boycotts have highlighted the growing political polarisation in the country of 153 million.
While Bangladesh has had a deeply troubled history since independence, with nearly two dozen coups, this year has been the bloodiest since it broke free from its former rulers in Islamabad 42 years ago.
A constable was burned to death in a petrol bomb attack on a police vehicle Tuesday night while two more people succumbed to their burn injuries Wednesday.
Much of the violence has been blamed on supporters of Jamaat-e-Islami, one of whose leaders was hanged earlier this month for war crimes.
Three rounds of UN-brokered talks between the government and opposition have failed to resolve the dispute between the Awami League and the BNP whose leaders despise each other.
The United States, European Union and the Commonwealth countries have announced they will not send observers to the election, seriously denting its credibility.
Strikes and blockades have crippled the economy, affecting millions of poor farmers and the urban middle class in what is the world's eighth most populous country and one of the poorest in Asia.
The strikes have done further damage to an economy already reeling from the impact on the crucial garment sector from a factory collapse in April which sparked widespread industrial unrest.