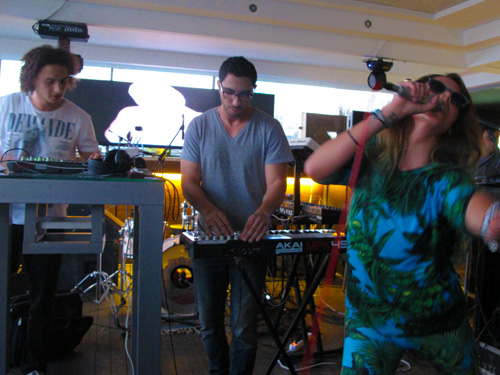 By ambitiously flexing its synth-packed fury in the face of the overly politicized, post-revolution music scene, an unassuming electronic trio known as the Wetrobots + Bosaina has rapidly become a refreshing and popular voice in Egypt and abroad.
Extremely lewd and incredibly catchy, with heavy bass lines, gritty synthesizers and boldly sardonic lyrics, this young trio is certainly worth keeping an eye and an ear out for.
The group first came together in the fall of 2010, when Bosaina El Kahal was booked for a gig at a charity fashion event at an upscale Cairene hotel. At the time, she had broken up with her previous London-based band mates and was in need of a guitarist and keyboardist to perform with. So she asked a childhood friend, local audio engineer and music producer Hussein al-Sherbini, to perform with her.
Sherbini was originally a rock-based musician who mostly played the guitar.
"At the time, I was already co-producing electronic music with my friend Ismail Hosny as the Wetrobots — he is a great keyboardist, so we brought him along to play the gig as well," he told Egypt Independent.
Bosaina said the group meshed together well.
"Although we were only performing electronically mixed '1990s covers, we were pleasantly surprised to learn that we understood each other musically, regardless of our different influences," she said.
Shortly afterwards, in early 2011, Bosaina linked up with Sherbini and Hosny to produce several '1990s pop-inspired tracks she had been working on. The result was the group's first project, an EP titled "Dirty Bourgeoisie" that featured three tracks: "Pretty Young Things," "Je Ne Sais Quoi" and "21."
"The first EP was mostly driven by Bosaina," said Sherbini. "But along the way, we each learned so much from the experience — we were getting to know each other musically. You can tell from the song '21' that our sound was coming alive. There were bits from each of us [in it]."
Later that year, the trio began work on "Disco Me," a collaborative track that was the catalyst for its official transformation into the Wetrobots + Bosaina. The band's evolution is clearly defined in "Disco Me." Drifting from its previous party anthems and heavy pop sensibility, the hit track is boisterous with synthesizers, and packed with infectious bass lines and catchy melodies, providing a tense backdrop to Bosaina's ironic, in-your-face lyrics.
"'Disco Me' was supposed to be a remix of this really old song Ismail and I made some time ago," said Shirbini. He had written some rough lyrics and asked Bosaina to write the vocals as well. "She was really into it, so we started officially working as Wetrobots + Bosaina — soon after, we made the rest of the songs for our second EP, 'Bang & Blow.'"
The band's second EP, which also features the title track and "Fake is Vogue," exhibits elements of each member's musical influences — Bosaina's pop, Hosny's French, electro base, and Sherbini's rock-inspired grunge effects, giving the EP more of an electro-clash sound.
The band members then asked their friend, Dana Boulos, to direct the group's first music video for "Bang & Blow." Most of the video was filmed in Jim Morrison's infamous room 32 at La Cienga Motel, as well as various other downtown Los Angeles locations. The independent art and pop culture magazine Vice soon picked up on the video and hosted it on its blog, describing the band as "fresh and exciting."
This past April, the band received its first official booking and performed at Discord Music magazine's "Wake & Bake" event in Cairo. Its debut performance certainly took the audience by surprise when the enigmatic Bosaina took to the stage in an all-green, tropical-printed jumpsuit, with streaks of blue hair, sunglasses and a David Bowie-esque performance, while singing lyrics such as, "Everybody's a photographer/Everybody's a designer/Everybody's a blogger/Everybody's a producer, yeah/Give me a fucking break, yeah?"
With a perfect balance of recklessness and satire, high kicks and head bangs, Bosaina is utterly captivating on stage.
Bosaina explains how they work on their music spontaneously, following their impulses rather than calculating their steps. "Bang & Blow" is much darker than their first production, but "it's definitely not politically inspired music," she said.
"The darkness in the EP is certainly reflective of the times we live in — imagine the frustrating sounds we want to come out with while living in this — but at the same time, it's about pointing out the fun in everything. It's very defensive and full of satire. Sometimes, you just need to have a laugh at everything," she said.
With her girlishly playful yet hard-knock delivery, raunchy lyrics and the dance-inspiring electro beats surrounding them, Bosaina draws comparisons with female MCs and singers of the '1990s, such as Lisa "Left Eye" Lopes from the band TLC, but with a modern take resembling Uffie or M.I.A.
This past June, venerable independent musician and founder of 100Copies record label Mahmoud Refaat added the Wetrobots + Bosaina to the roster of musicians performing in his annual 100Copies Electronic Music Festival. The trio's well-received appearance at the festival has since added cultural credibility to the Wetrobots + Bosaina performance portfolio.
Hosny said the band is now wrapping up its third EP, titled "Paragon," which will be accessible on the band's SoundCloud page within the coming month.
"We've added a lot of hip-hop elements to this EP — vocal plug-ins that give a full pop-rap feel with synths. The EP's title song, 'Paragon,' has a really heavy bass line, but it is noticeably more chilled out than our previous productions," Hosny said.
Amid Egypt's post-revolution creative outpour, the Wetrobots + Bosaina are in a world of their own. They are boisterous, colorful and uncontrollable. Their performances are fueled by raw energy, great beats and a playful synergy that is certain to leave any audience electrified.
This piece was originally published in Egypt Independent's weekly print edition.