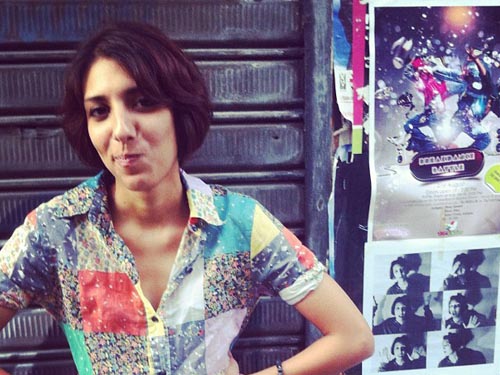 It's easy for underground musicians to feel misunderstood in Egypt — and especially so if you're a female, ex-heavy metal drummer who is dedicated to creating a unique hybrid of Arabic, indie pop-rock music that's void of explicit politics.
Known mostly for her brief stint in the all-female heavy metal band Mascara, and her off- and on-screen contributions to Ahmad Abdalla's documentary-styled film "Microphone," Maii Waleed may just be one of the more exciting talents in the sounds of Egypt's underground.
In short, Waleed's sound reflects a whimsical journey into the many melancholies faced by Egypt's modern-day youth. Her lyrical content seems to heavily draw from autobiographical romantic turbulence or various existential crises, making her music perfect for those many pontificating loners.
Waleed's first foray into music was at the age of 15 in her native town of Alexandria. After dabbling with piano, choir and a musical poetry group in high school, Waleed eventually found herself veering away from an institutionalized musical education, and taking up instead a more do-it-yourself approach to making music.
"I took some piano lessons as a kid, but quickly realized that I preferred learning music on my own in a way that could fit with my interests," explains Waleed. "I started by writing lyrics when I was 16, and then began teaching myself the guitar — I wanted to be on my own, rather than relying on other people to play the chords properly, or waiting around to see if they are in the mood or not."
By the time Waleed was 17, she began joining and forming several bands with other friends within Alexandria's emerging underground music scene in the early 2000s. This list of bands includes Nail Polish, Grin, Sameka, Telepoetic and the more widely known ensemble Mascara.
While in Mascara, Waleed played the drums and keyboard, and was also a lead vocalist, but eventually left the band in 2008 due to creative differences, thus beginning her solo career.
Singing predominately in Arabic, Waleed's music has also been used in the soundtracks of short films such as Emad Maher's "Neon Lamp" and Islam Kamal's "Shali," in addition to Abdalla's "Microphone."
"Working on 'Microphone' was an interesting experience because I worked both on camera and as an assistant director," says Waleed. "Mascara was featured prominently in the film, and at the time, their bassist, Perry Moataz, was unavailable, so I acted in her place."
Later in the film, Waleed also appears as herself in an interview with the smarmy state employee. In this scene, as part of her bid to obtain a permit to perform in a government-backed concert, she performs a version of her song "Trash and Nostalgia" on the ukulele.
But Abdalla was not the only one to catch wind of Waleed's talents; along the way, she was introduced to the venerable Lebanese musician and producer Zeid Hamdan, who expressed interest in her music. In 2010, Waleed was invited to participate in the annual Red Bull Music Academy in Beirut, and it was then that she and Hamdan began laying down the foundation for her debut EP.
"I wanted to work with Hamdan because he has a very open and unique approach to music. He is highly professional, but at the same time, he makes the entire process fun," explains Waleed. "I always had the fear of getting serious about something I did for fun and never thought I would take my music professionally, but Hamdan has such a great understanding of what underground music really is, and how to properly position your music and image — so it was very easy to work with him."
The album is tentatively scheduled to drop before January 2013 under Hamdan's label Lebanese Underground, and promises to offer a fresh take on Arab collaborations within the indie-pop subgenre.
In the past year, Waleed has released several self-produced tracks on SoundCloud, an online audio distribution platform. Her music is something of an overlooked gem, but that is often the case for those musicians working to create new subgenres, particularly in Egypt, where your standard Tamer Hosny pop ballads still rein king.
Her stream-of-consciousness narratives seem to be guided by an emotional immediacy, whether it is butterflies or heartache, social commentary or metaphysical conundrums. In "Trash and Nostalgia," Waleed's sonorous, yet gentle voice glides beautifully within a soft drum line, and a basic guitar riff — but what stands out is the panning technique used on the vocals, which allows her voice to softly wave in and out throughout the song.
"The sound I find myself going for usually evokes a spacey sort of atmosphere — now I like to blend the vocals with the music, rather than having the vocals overtop the music. Basically, I'm learning to treat my voice as an instrument," explains Waleed.
Her melodic sensibility, mixed with the vocal and guitar doubling, is quite a rarity among other female Egyptian singers, who rarely deviate from the classical Arabic registrar and Oriental sound. Her dream-like song titled "Monday" pulls directly at the heart of anyone who has ever felt the painful confusions of a relationship nearing its end.
Earlier this year, Waleed created and released her first music video with the help of her friend and fellow musician, Moataz, who plays bass guitar in the song. The black-and-white, split-screen video reflects Waleed's free spirited, pop-rock nature as she dances along to the visually evocative lyrics.
While Waleed's music continues to garner a digital following, she still faces challenges when it comes to live performances, stating, "I struggle to play live shows here [in Egypt] because the audience often has a hard time accepting something new or different — most still do not know how to appreciate new music that doesn't include a big show and dance within the performance. But I remain hopeful as the scene and audience continue to grow."
Regardless, Waleed is certainly turning heads and ears as she continues to develop her musical career. Unlike many of her peers, Waleed's music has a sound entirely her own — her music is fantastically original, but at the same time, her often vague or melancholic lyrics and dream-pop sensibility are the perfect example of just how well Western sounds can fuse with Egyptian sentiments.
This piece appears in Egypt Independent's weekly print edition