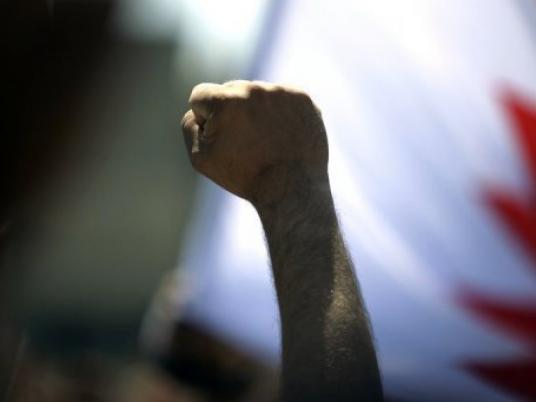 Bahrain has extended the detention of a leading human rights activist arrested last week for taking part in a demonstration in the Gulf Arab state by seven days, his lawyer said on Sunday.
Lawyer Mohamed al-Jishi said Sayed Yousif al-Muhafda, a leading figure at the Bahrain Center for Human Rights, was being investigated on charges of illegally gathering and taking part in an unauthorized march last Friday, the day of his arrest.
The interior ministry issued no statement about the case.
Jishi said Friday's protest took place in Diraz, a Shia Muslim district west of Manama. Muhafda says he went there to follow up on reports of injuries after clashes, Jishi said.
Bahrain, where the Sunni Khalifa family rules over a majority Shia population, has stepped up efforts to quell an uprising that has simmered since mass protests broke out in February and March 2011.
The kingdom is a base for the US Fifth Fleet, which patrols oil shipping lanes in the Gulf region.
Earlier last week, Bahrain's interior minister said all rallies and gatherings had been banned to ensure public safety, a move condemned by Amnesty International as a violation of the right to freedom of expression and peaceful assembly.
Leading rights activists Nabeel Rajab and Zainab al-Khawaja were arrested in recent months. Rajab is appealing convictions for gathering illegally. Khawaja was jailed for two months in October for tearing up a picture of King Hamad bin Isa al-Khalifa.
The government said last month that four men had been detained on charges of defaming the king on Twitter. Jishi said the courts were prosecuting six such cases.
Thirteen leaders of last year's protests — including opposition leaders, rights figures and clerics — remain in jail serving terms of between five and 25 years, after a civilian court retried cases originally heard in military courts last year.
Thirty-five people were killed during the 2011 uprising and during two months of martial law. Deaths linked to protests or clashes with the police have continued. Activists and rights groups say nearly 50 civilians have been killed since the end of martial law, while the authorities say two policemen have died.