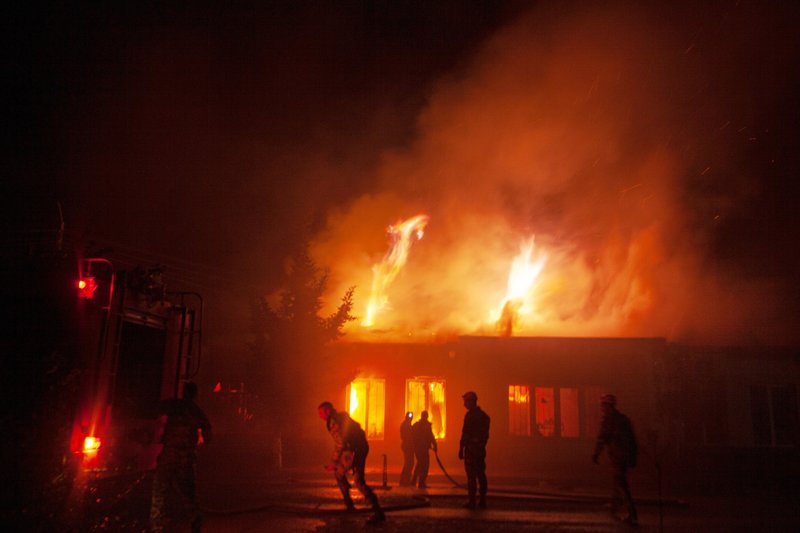 In spite of the agreement reached between the Foreign Ministers of the Republic of Azerbaijan and the Republic of Armenia in Moscow to implement a ceasefire since October 10, the Armenian armed forces have continued their reign of violence.
Right after the ceasefire was established, the Armenian armed forces fired on the Agdam and Tartar regions of Azerbaijan. Hours after that, the forces then attempted an attack in the direction of Hadrut and Jabrayil.
A sanitary medical vehicle attacked by the army left one medical worker severely injured. It had been marked with a white flag and was there to retrieve dead Armenian soldiers in Sugovushan – none of this spared it.
Ganja, the second largest city in Azerbaijan, and far away from the frontline, came under rocket fire on October 11 by the Armenian armed forces.
Nine civilians were killed and 34 were wounded in the attack, including minors.
These barbaric attacks proves that the Armenian leadership's so-called support of a ceasefire is nothing but empty hypocrisy.
By attacking Azerbaijan's homes, civilians and medical workers, Armenia has shown its flagrant disregard of international humanitarian law, including the Geneva Convention.
We condemn these attacks by Armenia. We call on the international community to take action and force Armenia to comply with international law and its obligations.
The full responsibility for this situation is in the hands of Armenia's political and military leadership.
Image: Firefighters work as building of a residential area burns after night shelling in Stepanakert, the self-proclaimed Republic of Nagorno-Karabakh, Azerbaijan, Saturday, Oct. 3, 2020. Heavy fighting between Azerbaijani and Armenian forces in the region since Sept. 27 has killed scores of both servicemen and civilians. Nagorno-Karabakh lies inside Azerbaijan but has been under the control of ethnic Armenian forces backed by Armenia since the 1994. (AP Photo/Karen Mirzoyan)