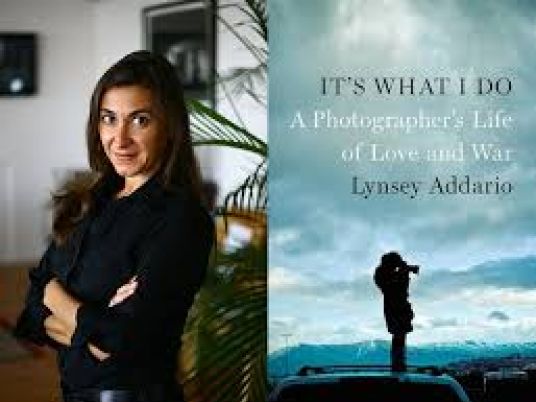 MacArthur fellow. Pulitzer Prize winner. Hostage. Now Lynsey Addario is going to be Jennifer Lawrence, or rather Jennifer Lawrence is going to be Addario.
The photographer's memoir "It's What I Do: A Photographer's Life of Love and War" has been optioned by Warner Bros., with Steven Spielberg attached as director and the world's highest paid actress to star.

It would be an understatement to say that Addario has had an eventful career so far.

Being taken captive in Libya in 2011 alongside her New York Times colleagues was just one of the terrifying situations she has found herself in.

And when in Afghanistan, in the immediate aftermath of 9/11, she experienced a violent anti-American mob: "I had so many hands on my body at one point that I finally just lost it," she recalls.
"I had […] one of these massive Nikon lenses. I just turned around and whacked whoever was closest to me on the head with this massive lens. And all I remember seeing were his eyes starting to roll back. And I just ran."
Addario doesn't normally have to use her equipment as a weapon. In some cases she has successfully navigated countries in a way her male colleagues have not.

"I can kind of move around under the radar in so many of these places," she says.
"One great advantage of being a female journalist is that people often don't know how to respond to me. I think in many of the countries that are more conservative […] I am sort of this weird third gender, [this] sexless person.

"I can mix with the men. But I can also mix with the women. And that's unique."

The role of the journalist in war

It's a position from which she was able to nurture relationships with women in Waziristan which resulted in "Veiled Rebellion", 2011 finalist for the American Society of Magazine Editors award for News and Documentary Photography.
She was nominated in the same year for "Perils of Pregnancy" in Time Magazine, following a woman in Sierra Leone giving birth to twins but dying in the process.

Addario reflects that for all the authority of still images, sometimes the camera is powerless to the events it witnesses: "In that instance I didn't have the tools to do anything but photograph. And so that is haunting."
Despite her experience in Libya, and the death of two friends in the country soon after her release, Addario is undeterred.

"I still do what I do for the same reasons," she says. "I think it's really important for a journalist to be out in the field and to bear witness."

"There are a lot of rumors about what's going on in war zones… the role of journalism is fundamental."