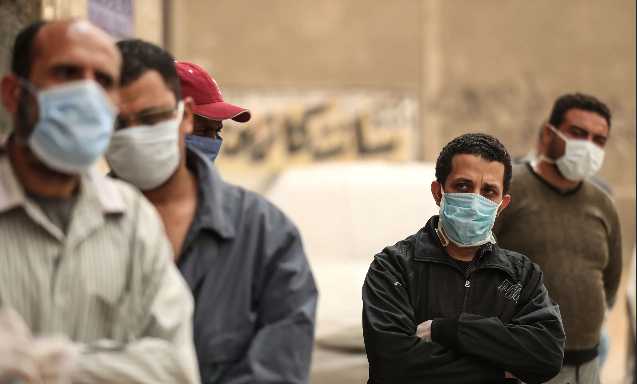 A senior health official in Egypt anticipates the end of the country's fourth wave of coronavirus infections if the number of cases continues to decline at the current level by the end of the week.
The Head of the Scientific Committee to Combat Coronavirus at Egypt's Ministry of Health and Population Hossam Hosni said that the infection and death rates with the virus continued to decline during the past days, but he stressed the need to continue taking precautionary measures to keep the decrease.
Hosni talked about new anti-coronavirus drugs in Egypt, noting that two of these drugs were provided and being used in government hospitals a month ago, while the third drug was contracted to import and is not yet available.
The first drug, Molnupiravir, is developed by US Merck company, and a permit was obtained to produce it locally in Egypt, and it has already been produced and used in government hospitals and pharmacies.
Administered as oral tablets, he noted it has shown good effectiveness so far.
Hosni added that the second drug is Evusheld, produced by AstraZeneca, and it was contracted to import and has been provided in government hospitals and pharmacies and used to treat cases infected with the virus about a month ago.
Evusheld is a solution taken by injection, for cases that suffer from immunodeficiency, such as tumor patients, and the results of treatment have proven very effective so far.
Hosni added that the third drug are the oral Paxlovid tablets produced by Pfizer, which are currently still being imported.
Egypt's Ministry of Health and Population on Friday reported 1,811 new coronavirus cases, 30 deaths, and 1,654 recoveries. A total of 478,984 cases have been reported in Egypt, with 23,957 deaths and 409,748 recoveries.
Egypt was able in a short time to provide all coronavirus vaccines, including Sinovac, Sinopharm, AstraZeneca, Sputnik, Johnson & Johnson, Pfizer, and Moderna, as part of the state's plan to diversify and expand the provision of coronavirus vaccines.
The Ministry of Health and Population called on citizens to register on the ministry's website to receive the vaccine, stressing that the state spares no effort in providing vaccines to citizens for free, through permanent cooperation with international organizations and bodies.