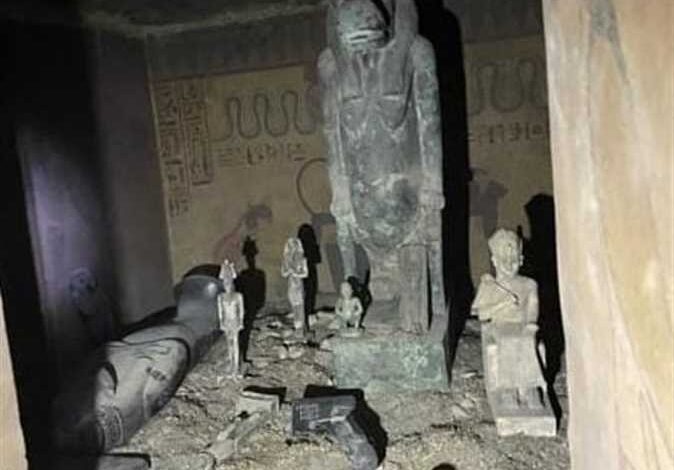 The Egyptian Public Prosecution announced Friday that police have identified the scammers involved in the largest monument fraud in the history of Egyptian antiquities.
Egyptian security authorities last week announced that suspects at large defrauded antiquities dealers by creating a fake tomb and passing it off as legitimate in order to pawn off fake artifacts to illegal antiquities dealers.
The Egyptian Public Prosecution said in a statement on Friday that it received a report from police in mid-February that security officers were patrolling al-Hiba area in al-Fashn city, Beni Suef, Upper Egypt, when they approached a group of people on a hill in a desert area with a pick-up truck.
They fled as authorities neared. Security personnel inspected their traces and found a group of suspect pharaonic statues next to a hole closed by iron door and locks.
Police removed it, and found that the hole leads to shaft, which is two meters deep, containing three chambers  resembling a tomb that contained statues of pharaonic figures.
The statement said that: "The Public Prosecution moved to inspect it, accompanied by a committee formed by Tourism and Antiquities Ministry, and the committee deposited a report in which it proved that the sides of the tomb contain iron rods to strengthen them."
"The drawings engraved on the walls of the three rooms and the statues they contain are all modern imitations and non-archaeological, so the Public Prosecution requested investigations by the Antiquities Investigation Department about the incident," the Public Prosecution added.
The Antiquities Investigation Department concluded that a group of suspects – who have been identified – had prepared this fake tomb to defraud those who wanted to buy artifacts and seize their money, so the Public Prosecution ordered them to be arrested, and investigations are being completed.