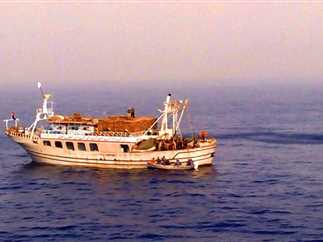 The Egyptian Navy and border guards, in coordination with the Bardawil Lake administration and citizens, continued Tuesday to search for a fishing vessel and three fishermen that have been missing in the waters of Bardawil Lake and the Mediterranean Sea for 72 hours due to bad weather conditions in northern Sinai.
The boat carried the three fishermen from Be'r al-Abd in North Sinai.
The search for the missing vessel, with the participation of 12 patrols, border guards, and other fishermen, continues, but no trace of the vessel has been found so far, Director General of the Bardawil Lake Amgad al-Raeya confirmed in a press statement.
He added that the authorities spare no effort in searching for the missing boat and the three fishermen, stressing that any new developments will be published on the official Facebook page of Beheira governorate in order to prevent rumors and incorrect news published on other pages.
The boat disappeared because of the poor weather conditions and severe storms that hit various areas of Beheira, he said, pointing to raising the degree of emergency to the maximum in the lake until the missing vessel is found.
He expected the boat to have drifted out of the lake through one of the gates that connects the lake to the Mediterranean Sea.
The head of the Suez Canal Authority Mohab Mamish stressed that a number of boats affiliated to the authority are participating in the search for the missing vessel, in coordination with the concerned authorities.
Families of the disappeared fishermen appealed for President Abdel Fattah al-Sisi, the Prime Minister and the governor of North Sinai to provide an aircraft to comb the waters of Bardawil Lake and the Mediterranean Sea.
They also filed official communications to the police station in Be'r al-Abd to quickly search for the missing fishermen.
They confirmed that they received a call for help from their children moments before they disappeared. The fishermen said waves hit them severely and they lost control of the boat, after which the connection was cut off.
Edited translation from Al-Masry Al-Youm