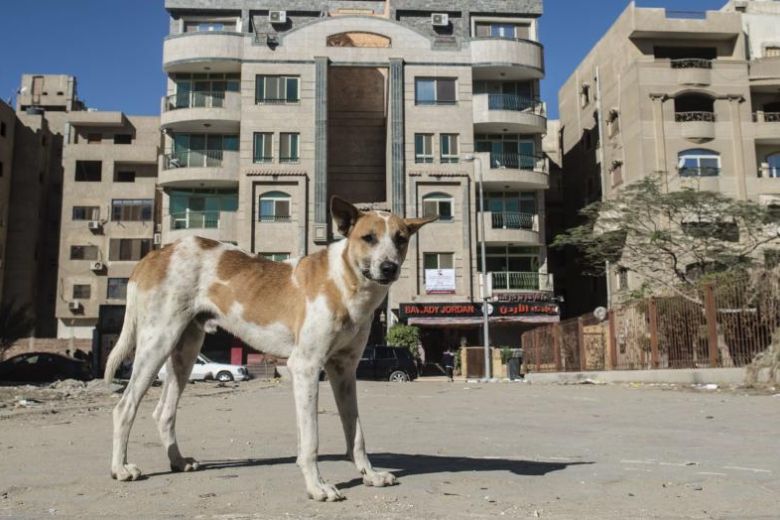 Egyptian authorities arrested a butcher for killing a stray dog in Cairo, after a video documenting the incident went viral on social media.
The video shows a a worker in a butcher shop in the Mokattam area stabbing a dog's body with a machete.
Authorities were able to locate and arrest the butcher, and by confronting him, he admitted that he had thrown a sharp cleaver at the dog to prevent him from entering the store and intimidating customers, which led to its death unintentionally.
Egypt's Dar Al Iftaa, as part of its on-going awareness campaigns, has warned against abusing animals, particularly by depriving them of food and water.
Dar Al Iftaa explained on its official Facebook page, saying: "The Prophet, peace be upon him, told that torturing and ill-treating an animal, or preventing it from eating and drinking until it dies, is a reason for entering Hellfire.
Dar Al Iftaa added: "The Messenger of Allah, peace and blessings be upon him, said: 'A woman was punished due to a cat she had imprisoned until it died, so she entered the Hellfire. She did not give it food or water while it was imprisoned, neither did she set it free to eat from the vermin of the earth.'"
Cruelty towards stray animals is not uncommon in Egypt.
In 2015, two men were arrested after appearing in a violent video circulated on social media, where they can be seen torturing and stabbing a dog on Al-Ahram Street in Shobra al-Kheima, after tying it to a lamp post.
The mass poisoning of cats at the upscale al-Gezira Club in Zamalek in August 2014 had also provoked the anger of social media users. Many animal rights organizations had filed complaints against the club's management over the incident.
Individual efforts are the basis of animal rescue incidents in Egypt, where environment laws are mostly not implemented, animal rights are viewed as a luxury and complaints of animal abuse are usually ignored or ridiculed by the police.
Stray cats and dogs are poisoned and shot as means of limiting their population, while animals at the zoo and pet shops are sometimes kept under inhumane conditions. The lack of animal care and environmental awareness campaigns adds to the problem of animal abuse in Egypt.