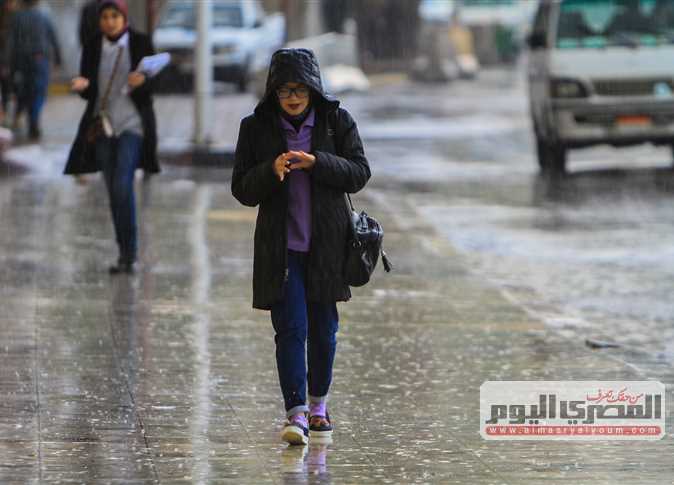 Authorities across Egypt continue to face the wave of bad weather hitting various governorates, and are following up progress on clearing clearing floods as well as running traffic on alternative roads to keep citizens safe.

In Alexandria, local authorities continued sweeping water on the streets after two consecutive days of rain. Borg al-Arab city mayor Hassan al-Gammal followed up his city's drainage process himself.
Giza Governor Ahmed Rashid announced a state of emergency to deal with the accumulated rainwater.
The mayors of all cities, drinking water companies, sanitation companies and other concerned authorities have been instructed to be present throughout the day in the streets, he stressed, to ensure that water is drained into the sewage system.
He added that suctioning equipment has been distributed within the streets in order to remove water and return traffic to normal.
Minya witnessed light and sporadic rains, which prompted traffic teams to spread densely and take measures to limit traffic speeds and change directions.
And Minya's director of the General Authority for Roads and Bridges branch announced the reopening of the Minya – Ras Ghareb road, and the continuation of repair work on the Sheikh Fadl – Ras Ghareb road.
He added that the Eastern Upper Desert Road will remain closed.
The rainwater that fell on Matrouh governorate over the past two days inundated a number of areas. Flooding at the Maghribi grave area in particular led to several bodies being relocated, while the city's main streets saw disrupted movement and power outages.
Emergency and crisis team in the governorate deployed vehicles to suction water from the streets and return traffic to normal.
Matrouh Governor Khaled Shoaib instructed to speed up the the suction of water from the streets and restore the normal situation, alongside continuous followup by the task force to address emergencies.
Edited translation from Al-Masry Al-Youm