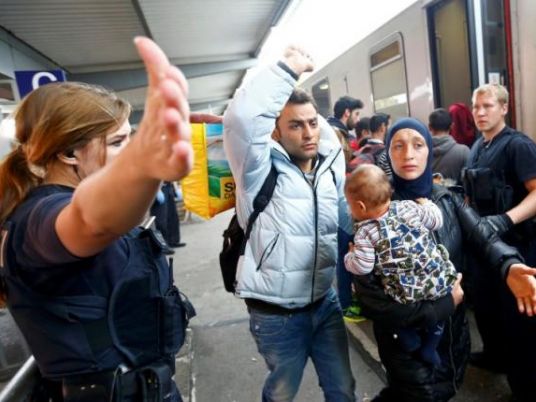 Austria introduced stricter border controls on Wednesday, following Germany's lead while at the same time trying to clear a backlog of tens of thousands of migrants still on its soil because of similar measures introduced by Berlin.
The countries acted in unison more than a week ago in opening their borders to a wave of migrants marching up the Balkans and through Hungary, but Berlin introduced its measures two days ago as migrants continued to stream into Austria.
The flow into Austria from Hungary has slowed since Tuesday, when Hungary tried to barricade its southern border against thousands still walking north. Austria made clear that the measure would slow migrants rather than stop them altogether.
"These border controls should be an important signal to the world," Interior Minister Johanna Mikl-Leitner told the broadcaster ORF. "There can be no borderless flow of migrants."
Austria and Germany have called for a European leaders' summit to address the migration crisis, Europe's worst since the war in the Balkans in the 1990s, and called for quotas for the redistribution of asylum seekers within the bloc, combined with stricter measures near its external border.
The proposals have faced opposition from Eastern European countries.
Germany's controls, which effectively suspended a system of borderless travel within Europe known as Schengen, have forced the cancellation of trains from Austria and caused a build-up of people across the border in the city of Salzburg, where the authorities said roughly 1,400 migrants were waiting.
Austrian Chancellor Werner Faymann gave an idea of the scale of the backlog in Austria, where the overwhelming majority of migrants want to keep moving into Germany.
"At the moment, more than 2,000 are coming (into Germany) with normal train services," he told ORF. "But if 25,000 or 22,000 people are in emergency accommodation, then you see that a bottleneck has arisen from the controls."
At the same time, those controls were delaying migrants rather than preventing them crossing the border altogether, he said.
"In Germany, no one has been denied entry," he said.
The Austrian authorities have made clear that their measures will be similar to Germany's.
In the eastern province of Burgenland, which borders Hungary, a police spokesman said the border controls had started.
"The police have set up a funnel here to obviously slow down the speeds and to selectively choose vehicles which fall into the inspection mechanism and inspect them," a spokesman for the police in Burgenland said. "I'm sure no one will be sent back."