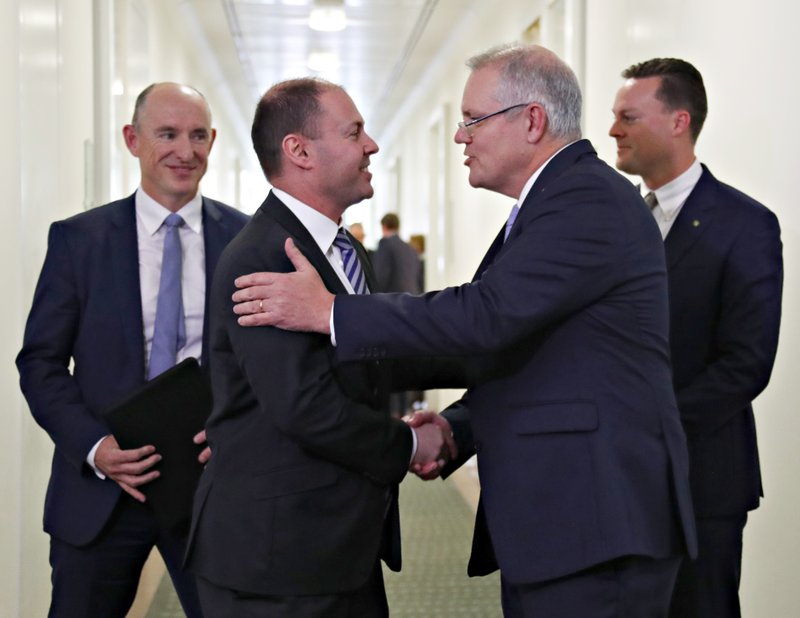 CANBERRA, Australia (AP) — Australia's next prime minister, Scott Morrison, is seen by some as an incongruous mix of a committed Christian who made his name through ratcheting up a refugee policy that many church groups have condemned as inhumane.
Some also find his politics confusing — he started his career as a moderate in the ruling conservative Liberal Party and morphed into a conservative. But as a conservative who respects moderates, Morrison is well placed to heal the civil war within the party that brought him to power.
Morrison was treasurer, the most coveted government office after prime minister, and was regarded as the best economic manager among the candidates.
He had told colleagues that he would not run for party leader against Prime Minister Malcolm Turnbull. So Turnbull's decision to quit meant Morrison could not be accused of disloyalty. Turnbull revealed later that he was impressed by his party's decision to pick Morrsion, whom he descried as "a very loyal and effective treasurer."
His tough stance on asylum seekers bewildered some observers, given his devout Christian beliefs.
Morrison rose to public prominence when the conservative coalition government was first elected under Prime Minister Tony Abbott in 2013 as the minister who stopped asylum seekers from attempting to reach Australian shores by boat.
Australia uses the navy to turn boats back to Indonesia, or banishes refugees to remote immigration camps on the poor Pacific island nations of Papua New Guinea and Nauru.
The policy has been widely condemned as a callous abrogation of Australia's international obligations to help refugees. Australia's human rights watchdog found in 2014 that Morrison failed to act in the best interests of asylum seeker children in detention.
Morrison explained his deep belief in the righteousness of crushing the people-smuggling trade and preserving the safety of people who board rickety boats to take the long and treacherous voyage to Australia.
But his empathy came under question when he criticized a former government's decision in 2010 to pay asylum seekers to fly from a remote Christmas Island camp to Sydney to attend funerals after 48 died in a boat disaster.
The 50-year-old former tourism marketer is also passionate about his Sydney Pentecostal church and his local Rugby League football team, Cronulla-Sutherland Sharks.
"The only tip I've got is Sharks to beat Newcastle," Morrison told reporters, referring to a weekend match, as he entered the room where his conservative Liberal Party colleagues elected him their leader in a secret ballot on Friday.
Morrison has a reputation as a powerbroker within the Liberal Party whose support has been crucial to previous party leaders.
Before politics, he made a splash as managing director of Tourism Australia in 2006, when he approved a 180 million Australian dollar ($130 million) advertising campaign to attract visitors Down Under with a bikini-clad model on an Aussie beach who asked: "So where the bloody hell are you?"
The campaign was temporarily banned in Britain because of complaints about the choice of language.
But Australia's first Pentecostal prime minister is staunch social conservative.
He proved out of step with most Australians last year when he unsuccessfully campaigned against Australia legislating to allow gay marriage. The same-sex marriage was overwhelming endorsed in a government-commissioned postal survey.
"So what values do I derive from my faith? My answer comes from Jeremiah, chapter 9:24: I am the Lord who exercises loving kindness, justice and righteousness on earth; for I delight in these things, declares the Lord," he said his first speech to Parliament in 2007.