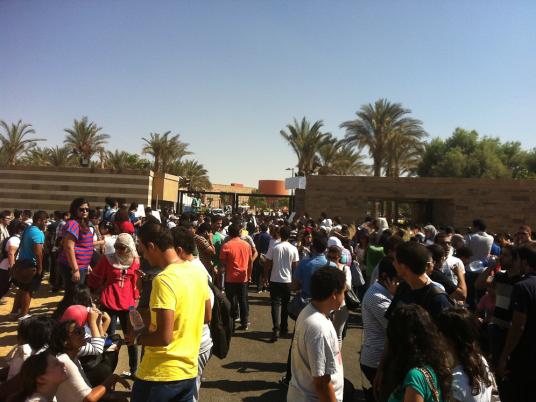 The American University in Cairo announced on Sunday that classes would be suspended until a dispute with some students over increased university fees is resolved.
On Sunday, protesters blocked the university gates for the third time in two weeks, preventing students and professors from entering.
The protesters are demanding that the university administration cancels its decision to increase tuition fees 7 percent without consulting with students or their representatives.
When the university attempted to help students and teachers enter campus by removing two metal gates, students blocked the open spaces with their cars. In the morning, some students opposed to the strike tried to jump over the gates.
Some students said security around campus has increased since last Sunday's strike.
In response to the strike, AUC Vice President for Planning and Administration Brian MacDougall said all classes would be canceled until further notice.
This Sunday strike came after university President Lisa Anderson sent an email on Saturday to students, declaring that prior negotiations with protesting students had failed. Anderson warned the students blocking the gates, saying they were in violation of both university policy and Egyptian law.
Taher al-Moataz Bellah, president of the AUC student union, said security officers had tried to harass the protesting students. He also said the university administration sent thugs to the protest.
The strike has its supporters and opponents, Bellah said, but stressed that it's the right of everyone to express his or her own opinion. He confirmed that the students would continue to strike until their demands are met.
Media adviser to the university, Rehab Saad, denied rumors that private guards, thugs and bulldozers were on campus.
Hossam Mohsen, a member of the student movement that organized the strike, said the protest was kicked off by the university's email — telling students to attend classes, assuring them that study would continue as usual, and warning that any student who tries to shut down the university is performing "acts against the law."
Mohsen explained that students are prepared to make "human shields" to block the open gates, forcing the university to listen to their demands and cancel the tuition increase.
Edited translation from Al-Masry Al-Youm