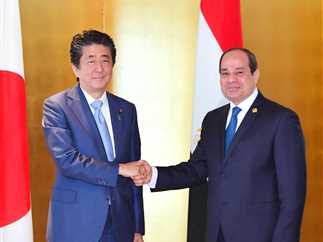 The African Union countries are on the threshold of an important stage and are witnessing major changes. These changes include increased opportunities for trade, investment and entrepreneurship facilitated through bold government policies that aim to achieve the aspirations of African peoples, President Abdel Fattah al-Sisi said on Friday at the Tokyo International Conference on African Development (TICAD) closing session.
The TICAD Summit endorsed the participating nations' aspirations and outlined prospects for cooperation for the next three years, Sisi said. This cooperation will come as various governments work in pursuit of the aspirations of their peoples for stability, peace, modernization, and prosperity through realizing sustainable development and creating an effective partnership between the private and public sectors, he added.
Japanese Prime Minister Shinzo Abe thanked Sisi for his efforts in co-presiding over the 7th TICAD session hosted in the Japanese city of Yokohama.
Participating countries endorsed the Yokohama Declaration 2019 and the Action Plan 2019. These are roadmaps for the future and for constructive cooperation between Japan and the African continent.
Participants agreed on the need to give priority to the private sector, to provide jobs for young people and develop their abilities, and to promote technology and innovation, Abe said. He also pointed out that the current summit listened to the demands of the private sector and saw the largest participation of private sector companies that the summit has seen any year yet. This large participation contributed to a constructive dialogue between the public and private sectors during the meetings, he said.
Discussions at the summit were rich, dealing with the future of sustainable development, investments, and innovation across the African continent, Abe said. He reiterated Japan's determination to continue cooperating with African countries to achieve the goals set in the 2063 Agenda.
The number of private companies participating in this conference has doubled since the fifth TICAD summit, he mentioned, expressing his hope to achieve joint goals between Japan and Africa on the African continent.
The conference was co-organized by the Government of Japan, the United Nations Office of the Special Adviser on Africa, the United Nations Development Program, the African Union Commission and the World Bank.
Edited translation from Al-Masry Al-Youm