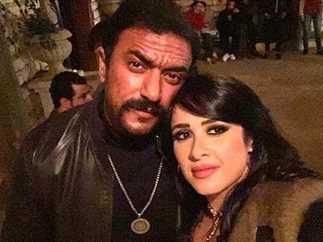 Lawyer Ashraf Abdel-Aziz, the attorney for the actress Yasmine Abdel-Aziz, issued a statement warning anyone, especially her brother, the actor Wael Abdel-Aziz, not to include her name in any interviews or talks, noting that whoever violates this will face all legal action.
The statement reads: "The office of Ashraf Abdel-Aziz warns the actress' brother, against publishing interviews or talks on social media about the actress."
The statement added: "Therefore, we strongly warn against publishing any interviews or talks, or raising any topics on social media and news websites, concerning Yasmine, and that all legal measures will be taken in case of violation."
The problems between the Yasmine and her brother, Wael, do not end, as they began from the beginning of the love story of, Yasmine and her colleague Ahmed al-Awadi and continue up until today.
There were mutual attacks by posts between the pair due to rumors of the separation of Yasmine and Awadi and the health condition of Yasmine.
The story began two years ago, with the separation of Yasmine from her ex-husband businessman Ahmed Halawa, and then rumors spread about her affair with Awadi, but her brother always denied these rumors.
After that, a large number of Yasmine's pictures spread on social media, while she was celebrating her birthday, and she was accompanied by Awadi, and the duo appeared in them in a way that seemed to be a relationship between them.
This made her brother break his silence through a post on his Facebook page, attacking her, saying, "No one will allow you to know someone 10 years younger and take pictures that are not necessary at the expense of your reputation and ours."
This post caused a major attack on Wael, by many artists and the public, after which Yasmine and Awadi revealed their relationship with each other.
The duo married and the situation completely calmed down, until the crisis renewed again, last year, after comments from Wael on the poster of a series starring Yasmine.
During the past few days, after Yasmine was reported as being ill, her brother Wael published a post on his personal page on Facebook expressing his sympathy for his sister.
For her part, Yasmine posted a story, on Instagram, responding to her brother Wael, saying: "get lost, you sold your sister and took a Mercedes for that."
Yasmine's attack prompted her brother Wael to comment in a Facebook post, saying: "I won't respond to you. You don't know how I protected you.. God gives man lessons.. and you didn't learn the lesson of your illness."
A few minutes later Wael deleted the post, then Yasmine deleted her story, in which she attacked Wael.