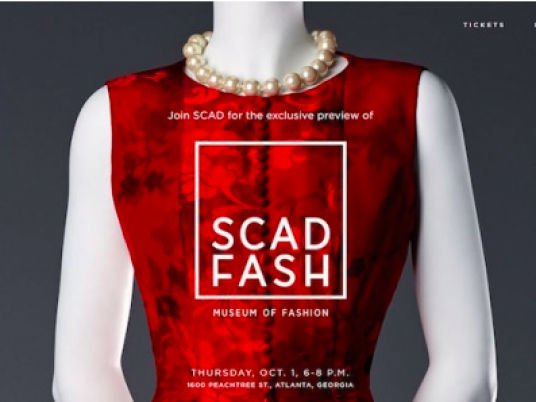 At a time when fashion exhibitions at major museums are enjoying a heyday, a new museum devoted to fashion has just been announced and will open in October in Atlanta, Georgia in the US.
The Savannah College of Art and Design is behind the new museum, which will be called
SCADfash
and will occupy 930 square meters of public gallery space plus a fashion conservation lab and a media library, displaying garments by designers including Saint Laurent, Oscar de la Renta and Givenchy.
An exhibit at Atlanta's new fashion museum will feature gowns by the late designer Oscar de la Renta, including some worn by celebrities such as Oprah Winfrey. (AFP photo)
SCADfash opens with an inauguration exhibition, "Oscar de la Renta," that runs from October 3 through December 21. Celebrating the late Dominican-American designer, it will feature clothing from the mid-1960s through the present, including gowns worn by former US first lady Laura Bush as well as Taylor Swift and Oprah Winfrey.
Oscar de la Renta's new creative director Peter Copping will be behind the selection of some of the pieces shown in the exhibition. Also featured will be a screening of "Ovation for Oscar," which premiered at the Marché du Film at the Cannes Film Festival film market and offers a behind-the-scenes look at the work of fashion photographers, art handlers and curators as they prepare an exhibition devoted to the designer.
That show, "Oscar de la Renta: His Legendary World of Style," was presented earlier this year at SCAD's Museum of Art and was the first posthumous museum tribute to the designer.
Among future programming planned for SCADfash is "i feel ya: SCAD + André Benjamin" and "Art x Fashion," which will explores the influences of art on design and vice versa.
News of the museum comes at a time when fashion exhibitions are drawing major crowds. "Alexander McQueen: Savage Beauty" recently closed at the V&A in London after becoming the museum's most-successful paid-for exhibition, and in New York, current show "China: Through the Looking Glass" has just become the most-visited exhibition at the Costume Institute of New York's Metropolitan Museum of Art.