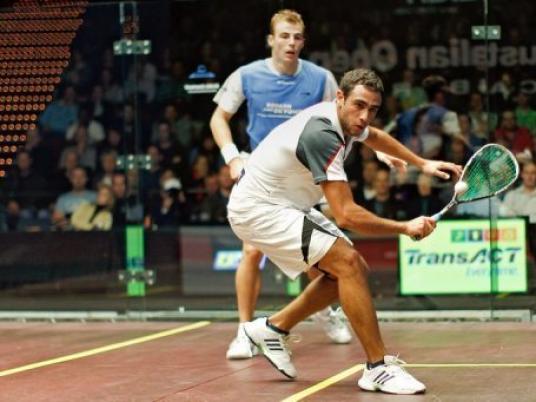 Ramy Ashour won one of the greatest World Open finals Friday when he saved a match point to triumph 13-11, 7-11, 5-11, 11-5, 14-12 against his Egyptian compatriot Mohamed El Shorbagy.
Shorbagy, who has just become world number one for the first time, proved a hero himself, saving five match points in a row from 5-10 down in the final game.
In the end, however, Ashour's brilliant creativity prevailed by the narrowest margins over El Shorbagy's power and strength, earning him his third world title.
Meantie, squash reignited hopes of a place in the Olympic Games. That is because an extraordinary session of the International Olympic Committee (IOC) at Monte Carlo next month looks likely to approve a change in entry regulations which would greatly improve squash's chances of becoming part of the Olympic program at Tokyo in 2020.
The change involves capping the number of athletes instead of the number of sports, and it makes World Squash Federation (WSF) officials believe a door has been opened for their sport whose footprint is light and whose presentation last year was well received by the IOC.
"The WSF hopes that squash will be in, and I believe that we deserve to be in," Mohamed El Menshawy, a WSF Vice President from Egypt, told an enraptured crowd here.
This is the first time that squash officials have made a public statement about their sport's change of circumstances since wrestling was bizarrely ejected and quickly reinstated for the 2020 Games by a ballot at Buenos Aires in September.
That happened at the same IOC session in which Thomas Bach of Germany was elected as the new President, and moves to make the Olympic program more flexible began immediately afterwards.
These appear to pave the way for a fairer deal both for baseball and softball — which the Tokyo organizers are said to want — and for squash, whose bids were quite well acknowledged by the IOC voting, but whose chances of the one available place were scuppered by the wrestling volte-face.
An even more optimistic view of squash's prospects is expressed by the WSF's chief executive Andrew Shelley in the forthcoming edition of The Squash Player magazine.
"It is clear that providing the host city gives its approval, the sports program for 2020 can be altered, despite it already having been fixed," Shelley says.
"Due to the assiduous efforts of our President, N. Ramachandran, our case for inclusion has been vigorously made and the strength of it recognized by key IOC people.
"The door is now ajar again. If it opens further in Monte Carlo in advance of a final decision next year, squash is ready to walk through it."
This view is supported both by the Professional Squash Association, the men's tour's governing body, and the Women's Squash Association, its counterpart, who have just agreed the basis of a historic merger on January 1st.