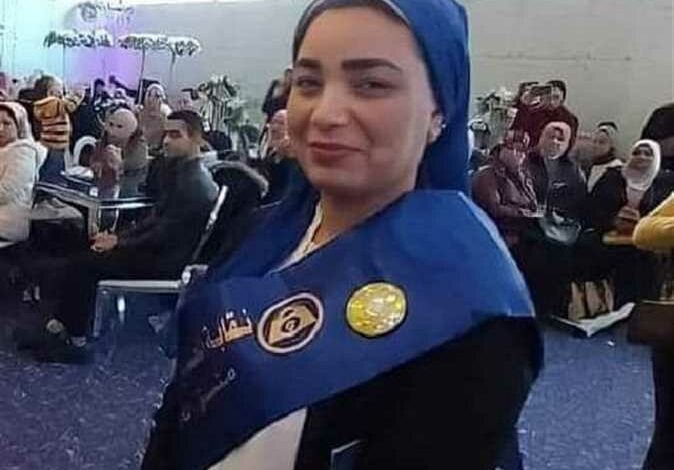 Daqahlia teacher Aya Youssef, whose dancing video went viral on social media during a trip for Mansoura teachers on the Nile cruise in Cairo, said that the Education Directorate of Daqahlia returned her job as an Arabic language teacher in one of the experimental language schools in Mansoura following the backlash she received for the video.
Youssef had been excluded from working at Khaled Ibn al-Walid Primary School after the video spread on social media.
In a statement to Al-Masry Al-Youm, Youssef said: "My life was destroyed because of the video from an unscrupulous person who tried to tarnish my reputation and brought the camera close to me only to show me in a bad manner. I really made a mistake because I was happy and played with people who were not honest. People bullied and insulted me. I lost my job, my husband, my home, and my mother got sick. My family was impacted by what happened."
"The decision of the Education Directorate in Daqahlia to return me to my work made me I feel that part of my life began to return to its nature and that part of my dignity was recovered. I wish everything returns to its nature and people do not set themselves as judge and executioner at the same time," she added.
Youssef said that she is grateful to everyone who supported her and stood with her and everyone who did not abandon her in her time of need.
"I took the biggest and most important lesson in my life, and I knew who my friends are, and who my enemies. The whole state stood with me and everyone tried to compensate me by returning me to my work because I have no other source of income and after the divorce (on the background of the video) I do not know how I and my three children will get by."
Weeping, she added, "People addressed hurtful words to my mother and my family, even though they raised me well. Laughing and playing doesn't make a bad person of me. I was acting spontaneously and was laughing and joking with my colleagues at work and in front of their families and wives because it was all in good fun. I tell the people who lashed me that I was in an open place playing around like a lot of people doing so."
"I am attending a master's degree and I have preparatory exams next week, and my sons are nearing the mid-year exams, and because of the video and the crisis that occurred, neither I nor my children could study, and did not make revisions before the exams. I am afraid that someone may bully my children in their exams because unfortunately many people have abused the children, whose spirits become very bad."
She continued, "I was on a trip for teachers with their families, and we all laughed, played, danced and joked, but everyone saw what happened from their point of view. If the picture was larger, the rest of the people who danced and played with us would have appeared."
Youssef thanked the Education Ministry, the Directorate of Education in Daqahlia, the National Council for Women, and all the public figures who stood by her and supported her through the ordeal.
Edited translation from Al-Masry Al-Youm